Team Red's latest set of high-end Graphics Processors are fit for both casual and elite players.
AMD's R9 Series GPUs have been performing incredibly well over the past few months. Each one gives you a great bang for your buck, but the downsides usually include higher power consumption and heat output when compared to Nvidia's line of GPUs. Of course, competition is always necessary to push companies further in innovation while keeping prices down.
The latest line of graphics processors by AMD include a number of returning, updated, and completely new technological features. All of the graphics processors in the R9 series use the 28nm GCN Architecture, and they include support for AMD's Mantle API, Eyefinity Technology, Power Tune technology, DDMAudio, CrossFire support, and HD3D. Even more features can be found on select R9 Series GPUs such as AMD's new TrueAudio technology and the ability to CrossFire more GPUs together without the use of a bridge.
The seven graphics processors in the R9 series include both normal and high-end variations. The normal versions have the number in their model name after the series name (R9 270), while the higher-end versions have an X at the end of the model name (R9 270X). The seven available GPUs are: 270, 270X, 280, 280X, 290, 290X, and the 295X2. Below is a table with various specs of the high-end R9 GPUs.
[table "" not found /]
The R9 295X2 is the newest and most powerful desktop GPU AMD has released to this date. It uses two R9 290X chips on a single board, fitted with one open-air fan and a water cooling system combo. The water cooling system was designed by Asetek, a popular company in PC liquid cooling solutions. This particular set up uses a maintenance free, closed loop water cooling system with two water blocks placed over each chip. The water flows out of the graphics card to a 120mm single thick radiator in a push configuration.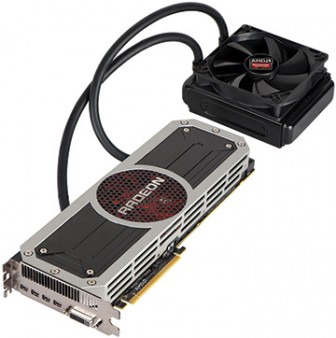 This graphics processor is designed to stay cool and quiet while you play the newest games at 4K resolutions or higher using AMD's Eyefinity setup! You will need 500w of power dedicated to this behemoth, and it usually sells  around the $1,500 mark, making it a GPU for Enthusiast PC Gamers — or  hardcore BitCoin miners.