Deprecated
: Array and string offset access syntax with curly braces is deprecated in
/home/hxchector/hxchector.com/wp-content/plugins/easy-table/inc/Encoding.php
on line
156
Deprecated
: Array and string offset access syntax with curly braces is deprecated in
/home/hxchector/hxchector.com/wp-content/plugins/easy-table/inc/Encoding.php
on line
158
Deprecated
: Array and string offset access syntax with curly braces is deprecated in
/home/hxchector/hxchector.com/wp-content/plugins/easy-table/inc/Encoding.php
on line
159
Deprecated
: Array and string offset access syntax with curly braces is deprecated in
/home/hxchector/hxchector.com/wp-content/plugins/easy-table/inc/Encoding.php
on line
160
Jewelry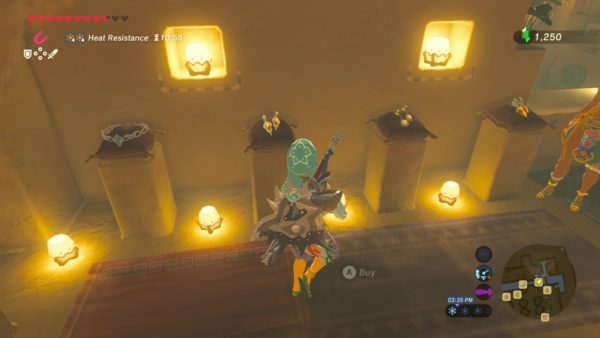 The Legend of Zelda Breath of the Wild treats jewelry very differently from the rest of their items. Unlike weapons and shields, jewelry does not deteriorate or ever break. Each piece of jewelry has its own effect to protect Link from different situations.
Jewelry can be purchased from a shop in Gerudo Town. Before the shop will sell the accessories, a short side quest called "Tools of the Trade" must be completed. Find and bring 10 pieces of Flint to complete the quest. Flint can be found while exploring Hyrule. Smash black ore on the side of mountain to find various minerals.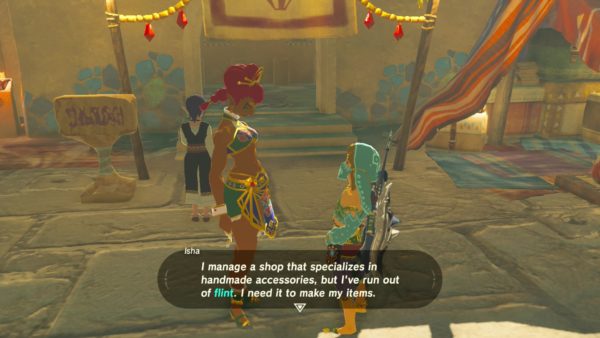 Jewelry can be upgraded by going to a Fairy Fountain in Hyrule and using different materials. The effects won't be upgraded, but the amount of protection they offer will. There are four Great Fairy Fountains in the game. See the fairy fountain page for more information on that side quest.
Diamond Circlet
Effects
Guardian Resist Up
Creation Materials
1500 Rupees and Diamond x3
Base
1 Star
2 Star
3 Star
4 Star
Defense
4
7
12
18
28
Upgrade Materials
-
Diamond x2, Flint x3
Diamond x4, Flint x3
Diamond x6, Star Fragment x1
Diamond x10, Star Fragment x1
Sapphire Circlet
Effects
Heat Resistance
Creation Materials
800 Rupees and Sapphire x3
Base
1 Star
2 Star
3 Star
4 Star
Defense
3
5
8
12
20
Upgrade Materials
-
Sapphire x2, Flint x3
Sapphire x4, Flint x3
Sapphire x6, Star Fragment x1
Sapphire x10, Star Fragment x1
Ruby Circlet
Effects
Cold Resistance
Creation Materials
500 Rupees and Ruby x3
Base
1 Star
2 Star
3 Star
4 Star
Defense
3
5
8
12
20
Upgrade Materials
-
Ruby x2, Flint x3
Ruby x4, Flint x3
Ruby x6, Star Fragment x1
Ruby x10, Star Fragment x1
Topaz Earrings
Effects
Shock Resistance
Creation Materials
500 Rupees and Topaz x5
Base
1 Star
2 Star
3 Star
4 Star
Defense
3
5
8
12
20
Upgrade Materials
-
Topaz x2, Flint x3
Topaz x4, Flint x3
Topaz x6, Star Fragment x1
Topaz x10, Star Fragment x1
Opal Earrings
Effects
Swim Speed Up
Creation Materials
200 Rupees and Opal x8
Base
1 Star
2 Star
3 Star
4 Star
Defense
3
5
8
12
20
Upgrade Materials
-
Opal x5, Flint x3
Opal x8, Flint x3
Opal x16, Flint x3
Opal x20, Flint x3
Amber Earrings
Effects
None
Creation Materials
100 Rupees and Amber x10
Base
1 Star
2 Star
3 Star
4 Star
Defense
4
7
12
18
28
Upgrade Materials
-
Amber x5, Flint x3
Amber x10, Flint x3
Amber x20, Flint x3
Amber x30, Flint x3