Wamai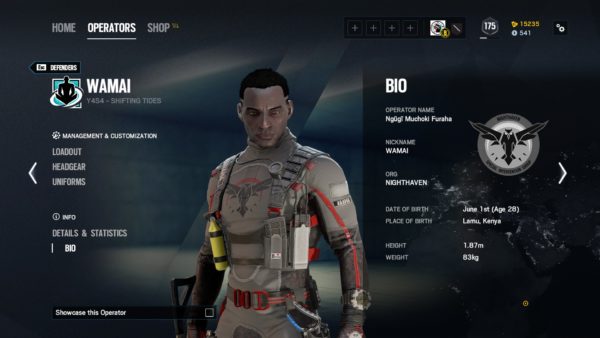 | | |
| --- | --- |
| Side | Defender |
| Role | Counter-Intel |
| CTU | NightHaven |
| Release | Year Four, Season Four |
| Armor | Medium |
| Speed | Medium |
Operator Tips
Unique Ability
Wamai's unique ability is a special gadget called the Mag-Net System. This device can stick to any surface, and will attract any projectile toward it. The projectile's timer will reset before detonating. The following projectiles are affected by the Mag-Net System:
Frag grenades
Smoke grenades
Stun grenades
Ash's breaching rounds
Thatcher's EMP grenades
Fuze's grenades from the cluster charge
Ying's Candela
Zofia's concussion and impact grenades
Capitao's crossbow bolts
Nomad's airjabs
Gridlock's trax stingers
Kali's explosive lances
One Mag-Net can grab one projectile. Wamai will gain one Mag-Net every 40 seconds, with a total of 5 Mag-Nets available per round.
Primary Weapons
MP5K
Damage
30
(25 Suppressed)
Class
Submachine Gun
Fire Rate
800 RPM
Fire Mode
Full Auto
Semi Auto
3 Round Burst
Mobility
50
Sights
Red Dot
Holographic
Reflex
Magazine
30+1
Grips
-
MP Capacity
31/150
Barrel
Suppressor
Flash Hider
Compensator
Muzzle Brake
TH Capacity
31/180
Under Barrel
Laser
AUG A2
Damage
42
(35 Suppressed)
Class
Assault Rifle
Fire Rate
720 RPM
Fire Mode
Full Auto
Mobility
50
Sights
Red Dot
Holographic
Reflex
ACOG
Magazine
30+1
Grips
-
MP Capacity
31/210
Barrel
Suppressor
Flash Hider
Compensator
TH Capacity
31/240
Under Barrel
Laser
Secondary Weapons
KERATOS .357
Damage
78
(66 Suppressed)
Class
Handgun
Fire Rate
-
Fire Mode
Revolver
Mobility
45
Sights
-
Magazine
6
Grips
-
MP Capacity
6/48
Barrel
Suppressor
Muzzle Brake
TH Capacity
6/60
Under Barrel
Laser
P12
Damage
44
(37 Suppressed)
Class
Handgun
Fire Rate
-
Fire Mode
Semi Auto
Mobility
45
Sights
-
Magazine
15+1
Grips
-
MP Capacity
16/60
Barrel
Suppressor
Muzzle Brake
TH Capacity
16/120
Under Barrel
Laser
Gadgets
| | |
| --- | --- |
| Barbed Wire | 2 bundles of barbed wire. Used to slow down enemies while attacking the base. |
| Deployable Shield | 1 Deployable Shield that can be used to create a makeshift barrier. Withstands all bullets, but not explosives. |