Nomad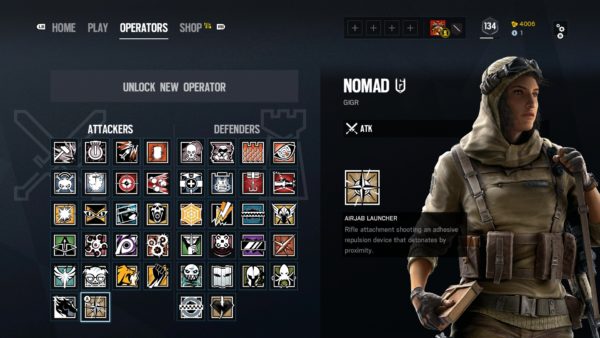 | | |
| --- | --- |
| Side | Attacker |
| Role | Trap |
| CTU | GIGR |
| Release | Year Three, Season Four |
| Armor | Medium |
| Speed | Average |
Operator Tips
Nomad is an all out offensive Operator. Use her highly accurate and powerful assault rifles to take the fight to enemies at all range. Shoot and stick an airjab mine to a wall to knock down any enemy Operator who is in the process of tracking you down. It can also be used to cover your flank, but don't stand too close or you will be knocked down as well.
The airjab mines are great for taking out defensive Operators such as those who hide in corners, behind hard surfaces, or behind deployable shields. Even those behind Tachanka's mounted machine gun or Clash's shield will be knocked down, giving you a second to attack.
Unique Ability
Nomad's unique ability is the Airjab Launcher. This is an underbarrel launcher that shoots motion-detonated concussion mines which can stick to any surface. If an enemy walks near these mines, the explosion will knock them on the floor, rendering them completely vulnerable to attack for one second. This will not damage them, however.
While aiming the airjab launcher, all Operators will be able to see the yellow laser line from the end of Nomad's gun. However, only Nomad will see the blast radius when the airjab sticks to a surface.
Three airjab shots are available per round. Once a mine is shot and stuck to a surface, it cannot be retrieved. They can be seen by a blinking yellow light and make a faint noise when you walk near them. Airjab mines can be destroyed by firearms, explosives, or electrified surfaces.
Primary Weapons
AK-74M
Damage
44
(37 Suppressed)
Class
Assault Rifle
Fire Rate
650 RPM
Fire Mode
Full Auto
Semi Auto
3 Round Burst
Mobility
50
Sights
Red Dot
Holographic
Reflex
ACOG
Magazine
40+1
Grips
-
MP Capacity
41/240
Barrel
Suppressor
Flash Hider
Compensator
Muzzle Brake
TH Capacity
41/320
Under Barrel
Laser
ARX200
Damage
47
(39 Suppressed)
Class
Assault Rifle
Fire Rate
750 RPM
Fire Mode
Full Auto
Semi Auto
3 Round Burst
Mobility
50
Sights
Red Dot
Holographic
Reflex
ACOG
Magazine
20+1
Grips
-
MP Capacity
21/160
Barrel
Suppressor
Flash Hider
Compensator
Muzzle Brake
TH Capacity
21/220
Under Barrel
Laser
Secondary Weapons
.44 Mag Semi-Auto

| | | | |
| --- | --- | --- | --- |
| Damage | 54 | Class | Handgun |
| Fire Rate | - | Fire Mode | Semi-Auto |
| Mobility | 45 | Sights | Scope (Integrated) |
| Magazine | 7+1 | Grips | - |
| MP Capacity | 8/42 | Barrel | - |
| TH Capacity | 8/56 | Under Barrel | Laser |
Gadgets
| | |
| --- | --- |
| Stun Grenade | 3 grenades that detonate two seconds after being thrown. They impair the vision and hearing of all Operators near the explosion for several seconds. Use it to blind and deafen a room filled with enemies before clearing it out. |
| Breach Charge | 3 charges that are used to blow open breakable surfaces. Get the jump on enemies or create new lines of sight. |