Deprecated
: Array and string offset access syntax with curly braces is deprecated in
/home/hxchector/hxchector.com/wp-content/plugins/easy-table/inc/Encoding.php
on line
156
Deprecated
: Array and string offset access syntax with curly braces is deprecated in
/home/hxchector/hxchector.com/wp-content/plugins/easy-table/inc/Encoding.php
on line
158
Deprecated
: Array and string offset access syntax with curly braces is deprecated in
/home/hxchector/hxchector.com/wp-content/plugins/easy-table/inc/Encoding.php
on line
159
Deprecated
: Array and string offset access syntax with curly braces is deprecated in
/home/hxchector/hxchector.com/wp-content/plugins/easy-table/inc/Encoding.php
on line
160
Maverick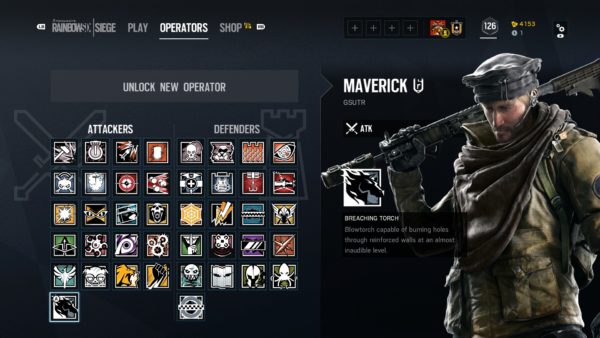 | | |
| --- | --- |
| Side | Attacker |
| Role | Hard Breacher |
| CTU | GSUTR |
| Release | Year Three, Season Three |
| Armor | Light |
| Speed | Fast |
Operator Tips
Maverick's breaching torch isn't meant to create entire doors or windows like Hibana and Thermite. Instead, use the blowtorch to secretly cut a hole in a barricade, normal wall, or reinforced surface. Use the hole to send in a drone, a grenade, silently eliminate any Operators with a suppressed firearm, or even plant a bomb through a small opening!
Unique Ability
Maverick's unique ability is the Breaching Torch. This is a simple blowtorch that can melt any destructible surface while barely making a sound. Nothing will catch fire in the game, not even the wooden barricades; instead, they will all break down after a few seconds of being torched.
Since a torch only uses fire, this gadget is highly useful for breaching electrified barricades or getting around signal jammers. Unfortunately, the amount of surface that can be breached at a time is very small. This is only useful for making peek holes unless you wish to use all five gas canisters to make a small opening to crouch through.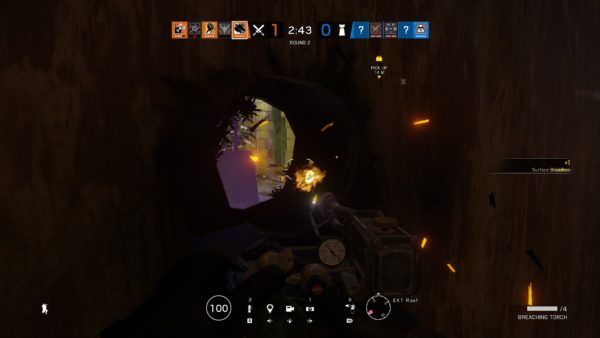 The Breaching Torch comes equipped with five gas canisters. Each gas canister will fuel the torch for a max of four seconds. The torch is also great to instantly destroy Maestro's Evil Eye or Bulletproof security cameras.
Primary Weapons
AR-15 .50
Damage
62
(52 Suppressed)
Class
Assault Rifle
Fire Rate
-
Fire Mode
Semi Auto
Mobility
50
Sights
Red Dot
Holographic
Reflex
ACOG
Magazine
10+1
Grips
Vertical Grip
Angled Grip
MP Capacity
11/60
Barrel
Suppressor
Muzzle Brake
TH Capacity
11/80
Under Barrel
-
M4
Damage
44
(37 Suppressed)
Class
Assault Rifle
Fire Rate
750 RPM
Fire Mode
Full Auto
Semi Auto
3 Round Burst
Mobility
50
Sights
Red Dot
Holographic
Reflex
ACOG
Magazine
30+1
Grips
Vertical Grip
Angled Grip
MP Capacity
31/150
Barrel
Suppressor
Flash Hider
Compensator
Muzzle Brake
Extended Barrel
TH Capacity
31/210
Under Barrel
Laser
Secondary Weapons
1911 TACOPS
Damage
55
(46 Suppressed)
Class
Handgun
Fire Rate
-
Fire Mode
Semi Auto
Mobility
45
Sights
-
Magazine
8+1
Grips
-
MP Capacity
9/32
Barrel
Suppressor
Muzzle Brake
TH Capacity
9/56
Under Barrel
Laser
Gadgets
| | |
| --- | --- |
| Stun Grenade | 3 grenades that detonate two seconds after being thrown. They impair the vision and hearing of all Operators near the explosion for several seconds. Use it to blind and deafen a room filled with enemies before clearing it out. |
| Claymore | 1 motion-triggered explosive mine. Set it in door ways or protect objectives with these. |