How to Earn Renown Fast
Using math and a few custom options in Rainbow Six Siege, you can earn Renown quickly with minimal effort. Just follow these few steps and you'll be on your way to unlocking all those Operators and skins.
The first thing to choose is the game mode. The quickest way to earn Renown for an average player is to play Terrorist Hunt, specifically the game modes Terrorist Hunt Classic and Extract Hostage. You can opt out of the other two game modes in the matchmaking settings in the options menu.
It's also important to play with a full team online. The more players in the game, the more Renown is earned for the entire team. Hopefully you'll run into a few players that want to stay as a team to complete a mission quickly. However, it's important not to finish the mission in less than 60 seconds. If the team is too quick, nobody will earn any Renown at the end of the match.
Although there are harder difficulties that give you a boost, the increase in XP and Renown is far too small to outweigh the difficulty and time spent in each match. Stick with Normal Difficulty even if you think you're a great player. The objective is to earn Renown FAST. The same argument can be made with Multiplayer. Multiplayer matches can give you more Renown than Terrorist Hunt matches, but they take far longer than a single Terrorist Hunt mission, and you have to rely on your entire team to win a Multiplayer game and earn that double Renown compared to the losing team.
Another way to increase your Renown is to purchase Renown Boosters with any R6 Credits you might have. Since R6 Credits are purchased with real money, this step is completely optional. Using one Booster will double your Renown (+100%); and if you play with four other players who also have Boosters, your Renown will nearly triple (+190%).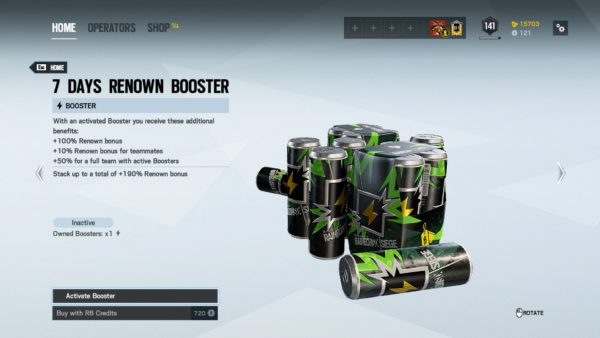 Finally, make sure you do not forget about the daily and weekly challenges. If it says to play a match with a certain Operator or get kills with a specific gun, you don't even have to win or finish the match to complete the challenge and earn the extra Renown! Check out the Weapons and Gadgets page for a list of which Operators have which weapons to complete the challenges.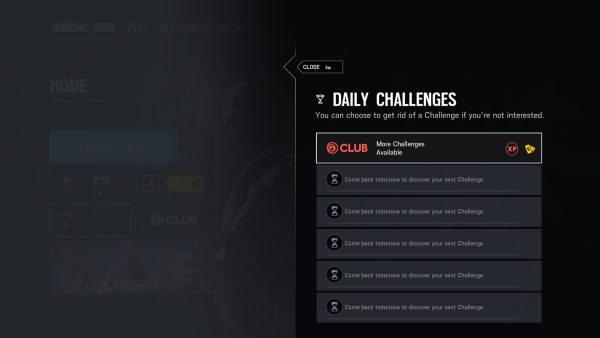 The weekly challenges are linked to your Uplay account, which means you will have to go through a few extra steps to either create or login to your Ubisoft / Uplay account. Click the Ubisoft Club option from the main menu to see the list of these challenges. Weekly Challenges reset every Tuesday at 12pm UTC. Daily challenges can be found at the main menu, and reset at 12am UTC. Increase your overall Level and get the Season Pass to unlock up to five slots for Daily Challenges to stack up in.