Deprecated
: Array and string offset access syntax with curly braces is deprecated in
/home/hxchector/hxchector.com/wp-content/plugins/easy-table/inc/Encoding.php
on line
156
Deprecated
: Array and string offset access syntax with curly braces is deprecated in
/home/hxchector/hxchector.com/wp-content/plugins/easy-table/inc/Encoding.php
on line
158
Deprecated
: Array and string offset access syntax with curly braces is deprecated in
/home/hxchector/hxchector.com/wp-content/plugins/easy-table/inc/Encoding.php
on line
159
Deprecated
: Array and string offset access syntax with curly braces is deprecated in
/home/hxchector/hxchector.com/wp-content/plugins/easy-table/inc/Encoding.php
on line
160
Dokkaebi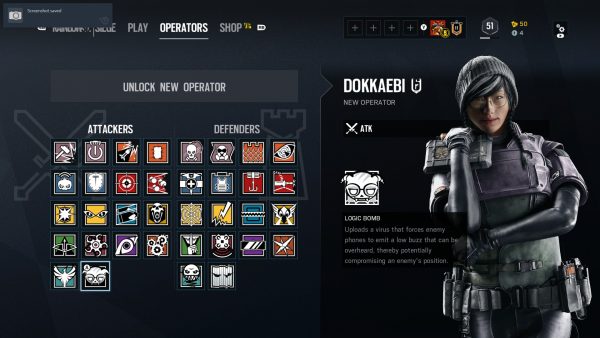 | | |
| --- | --- |
| Side | Attacker |
| Role | Intel |
| CTU | 707th SMB |
| Release | Year Two, Season Four |
| Armor | Medium |
| Speed | Average |
Operator Tips
Dokkaebi is a tech-based attacker. Use the Logic Bomb to stop enemies from looking at cameras while notifying your team of their positions with a buzzing noise from their smartphone. Hack into a dropped phone from a killed enemy to allow the entire team to use the defending team's security cameras.
Her primary weapons allow her to go long range, so it's best to stick next to an Operator who is suited for close range combat. Although she has a shotgun, it fires slugs that can instantly kill an enemy or damage them at any range. Her shotgun can only hold two rounds at a time, however.
Unique Ability
Dokkaebi's unique ability is the Logic Bomb. This uploads a virus that forces enemy phones to emit a low buzz that can be overheard, thereby potentially compromising an enemy Operator's position.
The phone call will last a max of 8 seconds unless the Operators manually resets his phone. Operators within range of a Mute jammer will also automatically end Dokkaebi calls. This ability can be used twice per round.
In addition to uploading a virus, Dokkaebi can hack into dropped Operator's phones to gain access to all security cameras for the entire team. A phone will automatically drop when an Operator is killed. The enemy team can prevent a phone from being hacked by shooting and destroyed said phone.
Primary Weapons
Mk14 EBR
Damage
60
(51 Suppressed)
Class
Marksman Rifle
Fire Rate
-
Fire Mode
Semi Auto
Mobility
50
Sights
Red Dot
Holographic
Reflex
ACOG
Magazine
20+1
Grips
Vertical Grip
Angled Grip
MP Capacity
21/80
Barrel
Suppressor
Flash Hider
Compensator
Muzzle Brake
TH Capacity
21/120
Under Barrel
Laser
BOSG. 12.2
Damage
125
Class
Shotgun
Fire Rate
-
Fire Mode
Double Barrel
Mobility
50
Sights
Red Dot
Holographic
Reflex
ACOG
Magazine
1+1
Grips
Vertical Grip
Angled Grip
MP Capacity
2/58
Barrel
-
TH Capacity
2/78
Under Barrel
Laser
Secondary Weapons
C75 Auto
Damage
35
(29 Suppressed)
Class
Machine Pistol
Fire Rate
1000 RPM
Fire Mode
Full Auto
Semi Auto
Mobility
50
Sights
-
Magazine
26+1
Grips
-
MP Capacity
27/78
Barrel
Suppressor
TH Capacity
27/130
Under Barrel
-
SMG-12
Damage
28
Class
Machine Pistol
Fire Rate
1270 RPM
Fire Mode
Full Auto
Semi Auto
Mobility
50
Sights
Red Dot
Holographic
Reflex
Magazine
32+1
Grips
Vertical Grip
Angled Grip
MP Capacity
33/160
Barrel
-
TH Capacity
33/224
Under Barrel
Laser
Gadgets
| | |
| --- | --- |
| Smoke Grenade | 2 Smoke Grenades that detonate two seconds after hitting the ground. |
| Frag Grenade | 2 grenades that explode three seconds after pulling the pin. The grenades can be "cooked" by holding it in your hand for a second or two before throwing. |