Lesion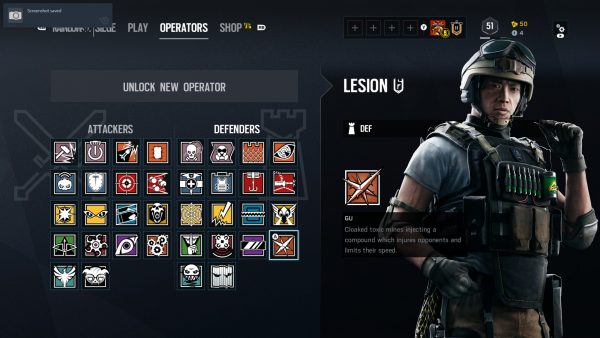 | | |
| --- | --- |
| Type | Defender |
| CTU | SDU |
| Release | Year Two, Season Three |
| Armor | Medium |
| Speed | Average |
Operator Tips
Lesion is a highly used Operator that specializes in damage and debilitation. When someone hits a Gu mine, which is nearly invisible to the human eye, they will be damaged and unable to run until they take it out. If they take it out, they will be vulnerable to attack. Use that opportunity to get the jump on an enemy Operator.
Gu Mines should be set around the objective, preventing enemy Operators from rushing in. One can be saved in your inventory in case a shield-bearing Operator comes around. They won't be able to stand in a corner and wait for reinforcements to come while their HP is draining.
Unique Ability
Lesion's unique ability is the Gu Mine. These are cloaked toxic mines that inject a compound which causes 10 HP of damage when first injected, then 4 HP every 2 seconds until it is removed.
The injured Operator's speed will also be reduce, they will be unable to sprint, and their vision will turn slightly green until the spiky Gu needle is removed. This ability can be used a max of 8 times, but only 3 can be held in the inventory at one time. Each Gu mine has a 30 second recharge period before another will become available.
Primary Weapons
SIX12 SD
Damage
35
Class
Shotgun
Fire Rate
-
Fire Mode
Semi Auto
Mobility
50
Sights
Red Dot
Holographic
Reflex
Magazine
6
Grips
-
MP Capacity
6/30
Barrel
Suppressor (Integrated)
TH Capacity
6/36
Under Barrel
Laser
T-5 SMG
Damage
28
(23 Suppressed)
Class
Submachine Gun
Fire Rate
900 RPM
Fire Mode
Full Auto
Semi Auto
3 Round Burst
Mobility
50
Sights
Red Dot
Holographic
Reflex
Magazine
30+1
Grips
-
MP Capacity
31/150
Barrel
Suppressor
Flash Hider
Compensator
Muzzle Brake
TH Capacity
31/210
Under Barrel
Laser
Secondary Weapons
Q-929
Damage
60
(51 Suppressed)
Class
Handgun
Fire Rate
-
Fire Mode
Semi Auto
Mobility
45
Sights
-
Magazine
10+1
Grips
-
MP Capacity
11/50
Barrel
Suppressor
Muzzle Brake
TH Capacity
11/80
Under Barrel
Laser
Gadgets
| | |
| --- | --- |
| Impact Grenade | 2 explosive Grenades that detonate on impact. Use them to blow open walls and create new lines of sight. |
| Bulletproof Camera | 1 camera that can see through thick smoke and withstand shots to its front face. Can be deployed on any flat surface large enough to hold it. |