Deprecated
: Array and string offset access syntax with curly braces is deprecated in
/home/hxchector/hxchector.com/wp-content/plugins/easy-table/inc/Encoding.php
on line
156
Deprecated
: Array and string offset access syntax with curly braces is deprecated in
/home/hxchector/hxchector.com/wp-content/plugins/easy-table/inc/Encoding.php
on line
158
Deprecated
: Array and string offset access syntax with curly braces is deprecated in
/home/hxchector/hxchector.com/wp-content/plugins/easy-table/inc/Encoding.php
on line
159
Deprecated
: Array and string offset access syntax with curly braces is deprecated in
/home/hxchector/hxchector.com/wp-content/plugins/easy-table/inc/Encoding.php
on line
160
Mira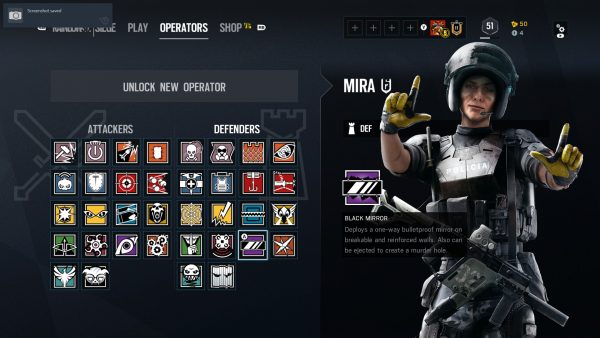 | | |
| --- | --- |
| Side | Defender |
| Role | Intel |
| CTU | GEO |
| Release | Year Two, Season One |
| Armor | Heavy |
| Speed | Slow |
Operator Tips
Since the Black Mirror can be deployed over breakable, semi-breakable (rebar), and reinforced walls, you can play either offense or defense. If you want to play offensively, plant a black mirror on or next to a destructible wall to fire through it the moment you see an enemy. If you wish to play defensively, place a black mirror on a reinforced wall to see when enemies are coming while remaining completely bullet and melee proof.
Unique Ability
Mira's unique ability is the Black Mirror, a one-way mirror that can be deployed on breakable and reinforced walls. The mirror is resistant to all firearms and explosives, but can be destroyed if the wall it is attached to is blown apart.
Additionally, each black mirror has a small, red oxygen tank attached to the frame. Shoot this tank to eject the mirror, creating a murder hole. Two Black Mirrors are available per round.
Although the black mirror can be places on reinforced walls, it must be deployed on the side where the wall was reinforced. Make sure you plan before reinforcing! Black mirrors cannot be placed on floors or hatches.
Primary Weapons
Vector .45 ACP
Damage
21
(17 Suppressed)
Class
Submachine Gun
Fire Rate
1200 RPM
Fire Mode
Full Auto
Semi Auto
2 Round Burst
Mobility
50
Sights
Red Dot
Holographic
Reflex
Magazine
25+1
Grips
Vertical Grip
MP Capacity
26/150
Barrel
Suppressor
Flash Hider
Compensator
Muzzle Brake
TH Capacity
26/225
Under Barrel
Laser
ITA12L
Damage
50
Class
Shotgun
Fire Rate
-
Fire Mode
Pump Action
Mobility
50
Sights
Red Dot
Holographic
Reflex
Magazine
7+1
Grips
Vertical Grip
Angled Grip
MP Capacity
8/33
Barrel
-
TH Capacity
8/57
Under Barrel
Laser
Secondary Weapons
ITA12S
Damage
70
Class
Shotgun
Fire Rate
-
Fire Mode
Pump Action
Mobility
50
Sights
Red Dot
Holographic
Reflex
Magazine
4+1
Grips
-
MP Capacity
5/31
Barrel
-
TH Capacity
5/26
Under Barrel
Laser
USP40
Damage
48
(40 Suppressed)
Class
Handgun
Fire Rate
-
Fire Mode
Semi Auto
Mobility
45
Sights
-
Magazine
12+1
Grips
-
MP Capacity
13/48
Barrel
Suppressor
Muzzle Brake
TH Capacity
13/60
Under Barrel
Laser
Gadgets
| | |
| --- | --- |
| Barbed Wire | 2 bundles of barbed wire. Used to slow down enemies while attacking the base. |
| Nitro Cell | 1 remote-detonated bomb. Can be disarmed by shooting or blowing it up. |