Deprecated
: Array and string offset access syntax with curly braces is deprecated in
/home/hxchector/hxchector.com/wp-content/plugins/easy-table/inc/Encoding.php
on line
156
Deprecated
: Array and string offset access syntax with curly braces is deprecated in
/home/hxchector/hxchector.com/wp-content/plugins/easy-table/inc/Encoding.php
on line
158
Deprecated
: Array and string offset access syntax with curly braces is deprecated in
/home/hxchector/hxchector.com/wp-content/plugins/easy-table/inc/Encoding.php
on line
159
Deprecated
: Array and string offset access syntax with curly braces is deprecated in
/home/hxchector/hxchector.com/wp-content/plugins/easy-table/inc/Encoding.php
on line
160
Valkyrie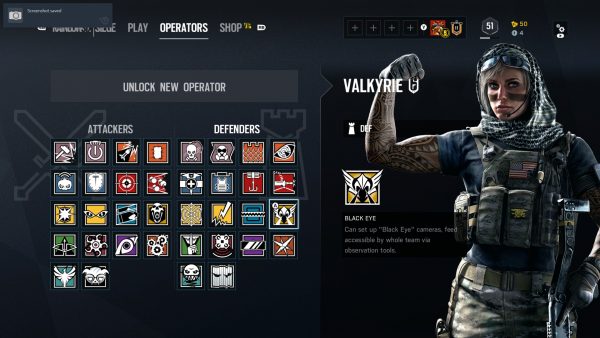 | | |
| --- | --- |
| Side | Defender |
| Role | Intel |
| CTU | Navy SEALs |
| Release | Year One, Season Two |
| Armor | Medium |
| Speed | Average |
Operator Tips
Valkyrie's Black Eye cameras are best used a distance from the objective. In a stairwell that Operators constantly take towards the objective is a good option. Also, make sure a security camera isn't already nearby. Try throwing it in a bright area where the blue light won't be detected when used.
And remember, you do not have to mark and ID enemy Operators just because they show up on the camera. Doing so will tell them that you know of their location.
Unique Ability
Valkyrie's unique ability is the Black Eye, an advanced security camera. The resolution is better than standard security cameras in buildings, the video is in color, and there's 180 degree rotation to see all directions. Valkyrie's cameras blink blue for enemies, yellow for friendlies, and white for Vigil and Nokk.
The camera feed is accessible by the whole team, just like all other security cameras. A total of three Black Eye cameras are available per round. Throw them like grenades and they will stick to any surface.
Primary Weapons
MPX
Damage
26
(22 Suppressed)
Class
Submachine Gun
Fire Rate
830 RPM
Fire Mode
Full Auto
Semi Auto
Mobility
50
Sights
Red Dot
Holographic
Reflex
Magazine
30+1
Grips
Vertical Grip
Angled Grip
MP Capacity
31/150
Barrel
Suppressor
Flash Hider
Compensator
Muzzle Brake
TH Capacity
31/330
Under Barrel
Laser
SPAS-12
Damage
60
Class
Shotgun
Fire Rate
-
Fire Mode
Semi Auto
Mobility
50
Sights
Red Dot
Holographic
Reflex
Magazine
6+1
Grips
-
MP Capacity
7/30
Barrel
-
TH Capacity
7/50
Under Barrel
Laser
Secondary Weapons
D-50
Damage
71
(60 Suppressed)
Class
Handgun
Fire Rate
-
Fire Mode
Semi Auto
Mobility
50
Sights
-
Magazine
7+1
Grips
-
MP Capacity
8/35
Barrel
Suppressor
Muzzle Brake
TH Capacity
8/56
Under Barrel
Laser
Gadgets
| | |
| --- | --- |
| Deployable Shield | 1 Deployable Shield that can be used to create a makeshift barrier. Withstands all bullets, but not explosives. |
| Nitro Cell | 1 remote-detonated bomb. Can be disarmed by shooting or blowing it up. |