Clearance Levels and XP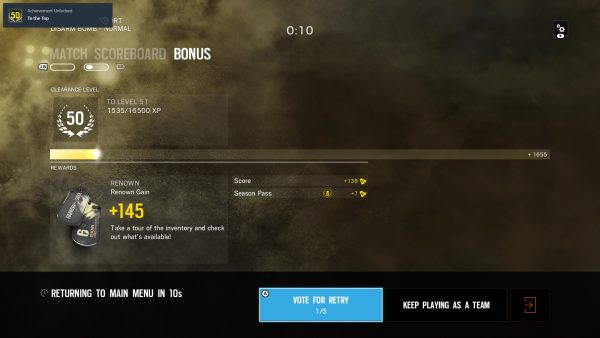 Unlike most multiplayer shooters out there, Rainbow Six Siege does not focus on experience points, levels, or ranks. Players will earn XP by completing Multiplayer games and Terrorist Hunt matches.
Players below Clearance Level 50 will have access to the custom Newcomers Multiplayer playlist, allowing newbies to get a feel for the game with other new players. Once a player reaches Clearance Level 30, Ranked and Unranked Multiplayer will become available.
Additionally, two achievements and trophies are earned for reaching Clearance Levels 25 and 50. A total of 16,000 XP is required to reach Level 50. If you need help earning some extra experience points, simply complete as many bonus objective as possible throughout the game and do not shoot your teammates! The average game of Terrorist Hunt or Multiplayer will earn a common player about 2000 XP.
[table class="table-condensed" align="center" width="100%" colalign="left|left|left|left"]
Bonus|MP|TH|Description
Use Gadget|1-50|1-50|Use your Operator's gadgets. Different gadgets give different amounts of XP. Common gadgets like barbed wire will give 10 XP.
Drone Destroyed|10|-|Destroy an enemy Operator's drone.
Camera Destroyed|10|-|Destroy an enemy Operator's camera.
Gadget Disabled|10|-|Disable an enemy Operator's gadget.
Gadget Destroyed|10-25|10|Destroy an enemy Operator's gadget. Different gadgets give different amounts of XP. Common gadgets like barbed wire will give 10 XP.
ID Enemy|10|-|ID an enemy Operator with a drone or camera.
Friendly Fire|-5|-5|Injure a teammate.
Team Kill|-50|-50|Kill a teammate.
Civilian Injury|-100|-100|Injure and down the hostage.
Hostage Killer|-500|-500|Kill the hostage.
Team Gadget|-10|-10|Destroy a teammate's gadget.
Kill|100|25|Kill an enemy without downing them.
Barricaded|5|5|Put up a wooden barricade over a door or window.
Reinforced|10|10|Put up a reinforced steel barricade over a breakable wall or hatch.
Kill Assist|75|15|Injure an enemy and have a teammate kill them.
Injure Assist|50|-|Injure an enemy and have a teammate down and kill them.
Enemy Scan Assist|50|15|Scan an enemy with your drone or camera and have a teammate kill them.
Injure|50|-|Injure and down an enemy Operator.
Confirmed Kill|50|-|Kill a downed enemy Operator.
Bomber|-|25|Kill a Bomber in Terrorist Hunt before they self detonate. Aim for the head!
Headshot|20|10|Kill an enemy Operator with a headshot.
Melee|10|10|Kill an enemy Operator with a melee attack. Knife or Shield.
Penetration|10|10|Kill an enemy by shooting through a breakable surface.
Concussed|20|10|Kill an enemy while concussed (vision blurred and sound muffled) by select enemy gadgets.
Blind|10|10|Kill an enemy while blinded by stun grenades or Blitz's shield.
Death From Above|10|10|Kill an enemy while rappelling.
Clay Pigeon|10|10|Kill an enemy who is currently rappelling.
Stun Grenade|10|10|Kill an enemy who is debilitated by a stun grenade.
Breach Charge Bonus|10|10|Kill an enemy who is debilitated by a breach charge.
Barbed Wired Bonus|10|10|Kill an enemy slowed down and currently in barbed wire.
Revive|50|10|Revive a downed teammate.
Hidden Objective|100|-|Start the round with the biohazard container hidden from the enemy team.
Hidden One Objective|50|-|Start the round with one bomb site hidden from the enemy team.
Hidden Two Objectives|100|-|Start the round with two bomb sites hidden from the enemy team.
Bomb Found|50|25|Find the enemy team's bomb site.
Objective Found|50|-|Find the enemy team's biohazard container.
Hostage Found|50|25|Find the hostage being held by the enemy team.
Bomb Disarmed|100|-|Disarm a bomb site in Multiplayer.
Defuser Disabled|100|-|Disable the bomb defuser that was set by the enemy team near one of your bomb sites.
Blitz Defusal|-|200|Disarm both bomb sites in Terrorist Hunt.
Objective Secured|100|-|Secure the enemy team's biohazard container.
Hostage Extraction|100|50|Take the hostage to the extraction point.
Securing Aggression|10|-|Kill an enemy while securing an enemy biohazard container or near a bomb site.
Objective Defender|10|-|Kill an enemy while standing near and defending the biohazard container or bomb site.
Hostage Defence Bonus|10|10|Kill an enemy while standing near and defending the Hostage.
Escort Start|100|50|Grab the hostage and begin extraction.
Not on my watch|10|-|Kill an enemy while they are holding the hostage.
Defuser Planted|100|50|Plant a defuser next to a bomb site.
Disable Denied|100|50|Kill an enemy who is in the process of disabling a defuser.
Defuser Picked Up|10|10|Pick up the defuser in a Bomb game mode.
Carrier Denied|10|-|Kill an enemy who was holding the bomb defuser.
First to Secure|50|-|Be the first player from your team on the enemy objective in Secure Area.
Match Victory|2000|-|Win a Multiplayer game.
Successful Mission|-|700|Win a Terrorist Hunt game.
Last Man Standing|-|400|Win a Terrorist Hunt game with one Operator alive.
Two Man Squad|-|425|Win a Terrorist Hunt game with two Operators alive.
Three Man Squad|-|450|Win a Terrorist Hunt game with three Operators alive.
Four Man Squad|-|475|Win a Terrorist Hunt game with four Operators alive.
A-Team|-|500|Win a Terrorist Hunt game with all five Operators alive.
Round Win|100|-|Win a round in a multiplayer game.
Wave Cleared|-|100|Clear a wave in Protect Hostage.
Flawless Round Bonus|50|-|Win a round without a teammate dying.
Come Back Bonus|50|-|Win a round after losing the last round.
End of Match Bonus|250|-|Complete a full match. If you started late, you might not receive the full 250.
Flawless Victory Bonus|250|-|Win a multiplayer game without losing a round.
Comeback Victory Bonus|250|-|Win a multiplayer game after the other team was at match point.
[/table]