Rook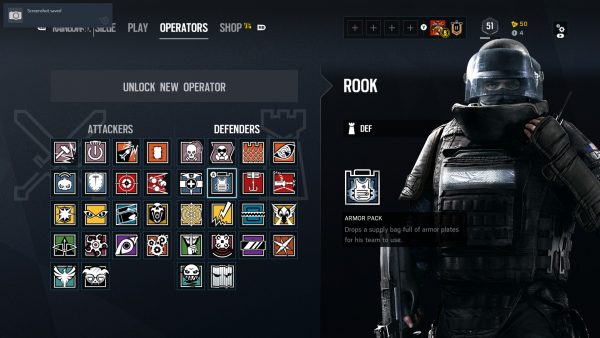 | | |
| --- | --- |
| Side | Defender |
| Role | Support |
| CTU | GIGN |
| Release | Original |
| Armor | Heavy |
| Speed | Slow |
Operator Tips
Rook doesn't have any special tips when it comes to his unique ability. Set his armor down and make sure the entire team grabs one. If there are some left over and a round begins, you can destroy the remaining armor instead of allowing the enemy team to grab them.
His weapons are the MP5 and P90 submachine guns. While the P90 has a bigger magazine than the MP5, it isn't as strong or accurate. If you want to deal a lot of damage, you can use a shotgun instead.
Unique Ability
Rook's unique ability is the trauma plate which reduces firearm damage to the torso until injured and downed. This does not provide any extra protection to the head! A supply bag filled with five armor plates will be available per round.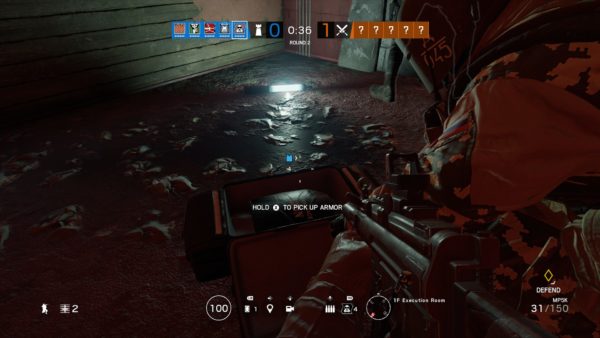 The armor pack can be destroyed by firearms, explosives, and melee attacks, so make sure you grab one during the preparation phase. If any bulletproof vests are left over, they can be taken by enemy Operators. Teammates who were downed and revived will lose their armor, but will have the ability to grab another vest if there are any remaining in the bag.
Primary Weapons
P90
Damage
22 (18 Suppressed)
Class
Submachine Gun
Fire Rate
970 RPM
Fire Mode
Full Auto
Semi Auto
Mobility
50
Sights
Red Dot
Holographic
Reflex
ACOG
Magazine
50+1
Grips
-
MP Capacity
51/200
Barrel
Suppressor
Flash Hider
Muzzle Brake
Extended Barrel
TH Capacity
51/200
Under Barrel
Laser
MP5
Damage
30 (25 Suppressed)
Class
Submachine Gun
Fire Rate
800 RPM
Fire Mode
Full Auto
Semi Auto
3 Round Burst
Mobility
50
Sights
Red Dot
Holographic
Reflex
ACOG
Magazine
30+1
Grips
Vertical Grip
MP Capacity
31/150
Barrel
Suppressor
Flash Hider
Muzzle Brake
TH Capacity
31/330
Under Barrel
Laser
SG-CQB
Damage
53
Class
Shotgun
Fire Rate
-
Fire Mode
Pump Action
Mobility
50
Sights
Red Dot
Holographic
Reflex
Magazine
6+1
Grips
Vertical Grip
MP Capacity
7/29
Barrel
-
TH Capacity
7/78
Under Barrel
Laser
Secondary Weapons
LFP586

| | | | |
| --- | --- | --- | --- |
| Damage | 78 | Class | Handgun |
| Fire Rate | - | Fire Mode | Revolver |
| Mobility | 45 | Sights | - |
| Magazine | 6 | Grips | - |
| MP Capacity | 6/36 | Barrel | - |
| TH Capacity | 6/139 | Under Barrel | Laser |
P9
Damage
45 (38 Suppressed)
Class
Handgun
Fire Rate
-
Fire Mode
Semi Auto
Mobility
45
Sights
-
Magazine
16+1
Grips
-
MP Capacity
17/64
Barrel
Suppressor
Muzzle Brake
TH Capacity
17/128
Under Barrel
Laser
Gadgets
| | |
| --- | --- |
| Deployable Shield | 1 Deployable Shield that can be used to create a makeshift barrier. Withstands all bullets, but not explosives. |
| Barbed Wire | 2 bundles of barbed wire. Used to slow down enemies while attacking the base. |