Years and Seasons Calendar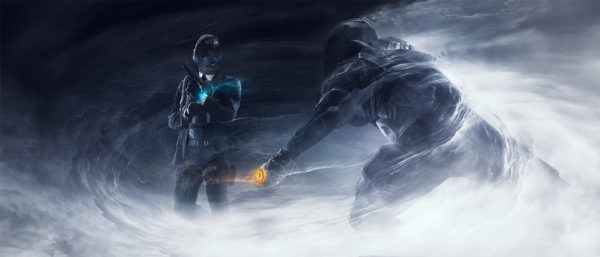 Rainbow Six Siege uses Seasons and Years to define their different content packs and title updates. There are four seasons per year, and March 2019 marks the beginning of year four. Players have the option of purchasing a yearly pass, but it is not necessary to access all content. All maps and updates are given to everyone for free, and new Operators can be unlocked with the currency earned in-game. The current Year 4 Pass and everything that comes with it is outlined below.
Year 4 Pass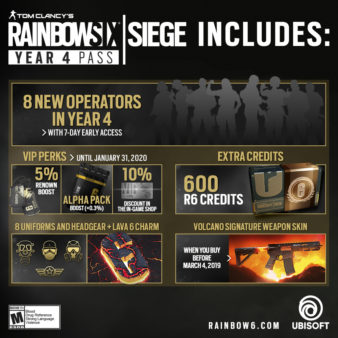 The Year 4 Pass allows the holder to instantly unlock eight new Operators throughout the four seasons of Year 4. These characters will be available seven days earlier than those who do not own the Year 4 pass, and a bonus 8 Uniforms and 8 Headgear will be given for free specifically for these Operators. Additionally, the Year 4 Pass includes a bonus 600 R6 Credits and the Lava 6 Charm for all primary and select secondary weapons. And finally, Year 4 season pass holders will receive a 5% Renown Boost, 10% discount on all item from the in-game shop (Renown and R6), and a 0.3% boost on Alpha Pack increases until January 31, 2020.
Year and Season Updates
#
Name
Map
Operators
Features
Release
Y1S1
Operation Black Ice
Yacht
Buck
Frost
Spectator camera
February 2, 2016
Y1S2
Operation Dust Line
Border
Blackbeard
Valkyrie
Charms, Headgear.
May 10, 2016
Y1S3
Operation Skull Rain
Favela
Capitao
Caveira
Surrender option
August 2, 2016
Y1S4
Operation Red Crow
Skyscraper
Hibana
Echo
Uniforms, Enhanced Destruction
November 17 2016
Y2S1
Operation Velvet Shell
Coastline
Jackal
Mira
UI update
February 7, 2017
Y2S2
Operation Health
-
-
Alpha Packs
June 7, 2017
Y2S3
Operation Blood Orchid
Theme Park
Ying
Lesion
Ela
Drone update
August 29, 2017
Y2S4
Operation White Noise
Tower
Dokkaebi
Vigil
Zofia
-
November 20, 2017
Y3S1
Operation Chimera
-
Lion
Finka
Outbreak game mode
March 6, 2018
Y3S2
Operation Para Bellum
Villa
Alibi
Maestro
Clubhouse map rework, Pick and Ban custom option
June 7, 2018
Y3S3
Operation Grim Sky
-
Maverick
Clash
Hereford Base map rework
September 4, 2018
Y3S4
Operation Wind Bastion
Fortress
Kaid
Nomad
-
December 4, 2018
Y4S1
Operation Burnt Horizon
Outback
Gridlock
Mozzie
-
March 6, 2019
Y4S2
Operation Phantom Sight
-
Nokk
Warden
Kafe Dostoyevsky map rework
June 12, 2019
Y4S3
Operation Ember Rise
-
Goyo
Amaru
Kanal map rework
September 11, 2019
Y4S4
Operation Shifting Tides
-
Kali
Wamai
Theme Park map rework
December 3, 2019