Pulse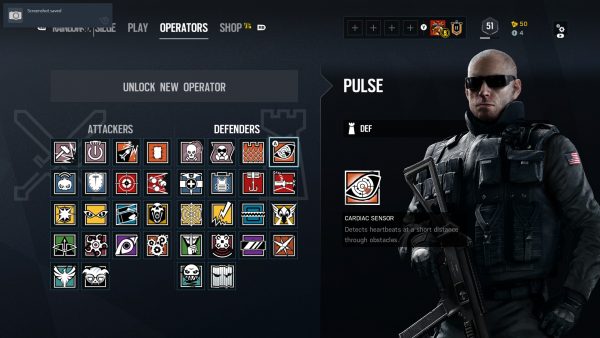 [table align="center" th="0" width="100%" colalign="left|left"]
Side|Defender
Role|Intel
CTU|FBI SWAT
Release|Original
Armor|Light
Speed|Fast
[/table]
Operator Tips
Pulse is an Operator that specializes in hunting down his enemies. Use his cardiac sensor to locate the position of an enemy, then take them out before they know your location. A silenced weapon is one option, a shotgun blast or nitro charge through a wall is another.
Unique Ability
Pulse's unique ability is the Cardiac Sensor. This gadget detects heartbeats at a short distance through obstacles.
While the equipment can be used an infinite number of times per round, no weapons can be used while looking at the monitor. Pulse will become completely vulnerable until he puts away his sensor and brings out his firearms or gadgets.
Primary Weapons
[table th="0″ caption="M1014″ align="center" width="100%" colalign="left|left|left|left"]
Damage|34|Class|Shotgun
Fire Rate|-|Fire Mode|Semi Auto
Mobility|50|Sights|Red Dot~~Holographic~~Reflex
Magazine|7+1|Grips|-
MP Capacity|8/25|Barrel|-
TH Capacity|8/73|Under Barrel|Laser
[/table]
[table th="0″ caption="UMP45″ align="center" width="100%" colalign="left|left|left|left"]
Damage|30~~(25 Suppressed)|Class|Submachine Gun
Fire Rate|800 RPM|Fire Mode|Full Auto~~Semi Auto
Mobility|50|Sights|Red Dot~~Holographic~~Reflex
Magazine|25+1|Grips|Vertical Grip~~Angled Grip
MP Capacity|26/150|Barrel|Suppressor~~Flash Hider~~Compensator~~Muzzle Brake~~Extended Barrel
TH Capacity|26/175|Under Barrel|Laser
[/table]
Secondary Weapons
[table th="0″ caption="M45 MEUSOC" align="center" width="100%" colalign="left|left|left|left"]
Damage|58~~(49 Suppressed)|Class|Handgun
Fire Rate|-|Fire Mode|Semi Auto
Mobility|45|Sights|-
Magazine|7+1|Grips|-
MP Capacity|8/49|Barrel|Suppressor~~Muzzle Brake
TH Capacity|8/133|Under Barrel|Laser
[/table]
[table th="0″ caption="5.7 USG" align="center" width="100%" colalign="left|left|left|left"]
Damage|42~~(35 Suppressed)|Class|Handgun
Fire Rate|-|Fire Mode|Semi Auto
Mobility|45|Sights|-
Magazine|20+1|Grips|-
MP Capacity|21/60|Barrel|Suppressor~~Muzzle Brake
TH Capacity|21/120|Under Barrel|Laser
[/table]
Gadgets
[table th="0″ align="center" width="100%" colalign="left|left"]
Barbed Wire|2 bundles of barbed wire. Used to slow down enemies while attacking the base.
Nitro Cell|1 remote-detonated bomb. Can be disarmed by shooting or blowing it up.
[/table]