Deprecated
: Array and string offset access syntax with curly braces is deprecated in
/home/hxchector/hxchector.com/wp-content/plugins/easy-table/inc/Encoding.php
on line
156
Deprecated
: Array and string offset access syntax with curly braces is deprecated in
/home/hxchector/hxchector.com/wp-content/plugins/easy-table/inc/Encoding.php
on line
158
Deprecated
: Array and string offset access syntax with curly braces is deprecated in
/home/hxchector/hxchector.com/wp-content/plugins/easy-table/inc/Encoding.php
on line
159
Deprecated
: Array and string offset access syntax with curly braces is deprecated in
/home/hxchector/hxchector.com/wp-content/plugins/easy-table/inc/Encoding.php
on line
160
Ash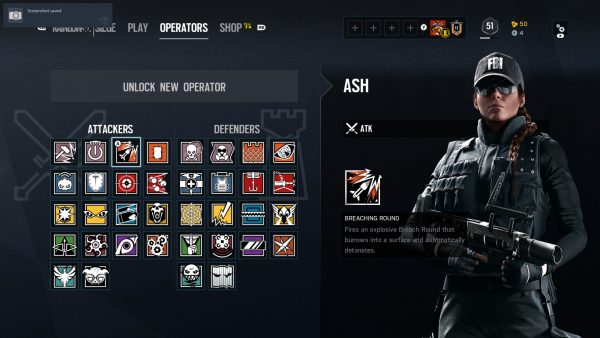 | | |
| --- | --- |
| Side | Attacker |
| Role | Breacher |
| CTU | FBI SWAT |
| Release | Original |
| Armor | Light |
| Speed | Fast |
Operator Tips
Ash is a speedy attack Operator. Use her to hit hard and fast. Her special ability is a grenade launcher that is used to blow apart breakable surfaces. It's similar to a mobile breach charge. Throw a flashbang before entering a room, then pick off each Operator with Ash's deadly assault rifles. She won't be able to withstand much damage, but she is hard to hit while moving and packs a deadly punch.
Breach rounds are also great for destroying bulletproof camera and deployable shields.
Unique Ability
Ash's unique ability is a single fire grenade launcher. Switch to the grenade launcher to fire an explosive Breach Round that burrows into a surface and automatically detonates a second later. These breach rounds will kill any Operator near the blast, but the further from the explosion the less damage will be done. These rounds can only bust through destructible surfaces, not reinforced steel.
The breach round can be captured by Jager's active defense system. After the Y4S3.2 patch, the Breach Round will no longer be affected by electricity.
The grenade launcher will have two shots per round: one grenade is loaded in the chamber, and one grenade is stockpiled.
Primary Weapons
G36C
Damage
38
(32 Suppressed)
Class
Assault Rifle
Fire Rate
780 RPM
Fire Mode
Full Auto
Semi Auto
Mobility
50
Sights
Red Dot
Holographic
Reflex
ACOG
Magazine
30+1
Grips
Vertical Grip
Angled Grip
MP Capacity
31/210
Barrel
Suppressor
Flash Hider
Compensator
Muzzle Brake
TH Capacity
31/240
Under Barrel
Laser
R4-C
Damage
39
(33 Suppressed)
Class
Assault Rifle
Fire Rate
860 RPM
Fire Mode
Full Auto
Semi Auto
Mobility
50
Sights
Red Dot
Holographic
Reflex
Magazine
30+1
Grips
Vertical Grip
MP Capacity
31/210
Barrel
Suppressor
Flash Hider
Compensator
Muzzle Brake
Extended Barrel
TH Capacity
31/240
Under Barrel
Laser
Secondary Weapons
M45 MEUSOC
Damage
58
(49 Suppressed)
Class
Handgun
Fire Rate
-
Fire Mode
Semi Auto
Mobility
45
Sights
-
Magazine
7+1
Grips
-
MP Capacity
8/49
Barrel
Suppressor
Muzzle Brake
TH Capacity
8/133
Under Barrel
Laser
5.7 USG
Damage
42
(35 Suppressed)
Class
Handgun
Fire Rate
-
Fire Mode
Semi Auto
Mobility
45
Sights
-
Magazine
20+1
Grips
-
MP Capacity
21/60
Barrel
Suppressor
Muzzle Brake
TH Capacity
21/120
Under Barrel
Laser
Gadgets
| | |
| --- | --- |
| Breach Charge | 3 charges that are used to blow open breakable surfaces. Get the jump on enemies or create new lines of sight. |
| Stun Grenade | 3 grenades that detonate two seconds after being thrown. They impair the vision and hearing of all Operators near the explosion for several seconds. Use it to blind and deafen a room filled with enemies before clearing it out. |