Deprecated
: Array and string offset access syntax with curly braces is deprecated in
/home/hxchector/hxchector.com/wp-content/plugins/easy-table/inc/Encoding.php
on line
156
Deprecated
: Array and string offset access syntax with curly braces is deprecated in
/home/hxchector/hxchector.com/wp-content/plugins/easy-table/inc/Encoding.php
on line
158
Deprecated
: Array and string offset access syntax with curly braces is deprecated in
/home/hxchector/hxchector.com/wp-content/plugins/easy-table/inc/Encoding.php
on line
159
Deprecated
: Array and string offset access syntax with curly braces is deprecated in
/home/hxchector/hxchector.com/wp-content/plugins/easy-table/inc/Encoding.php
on line
160
Mute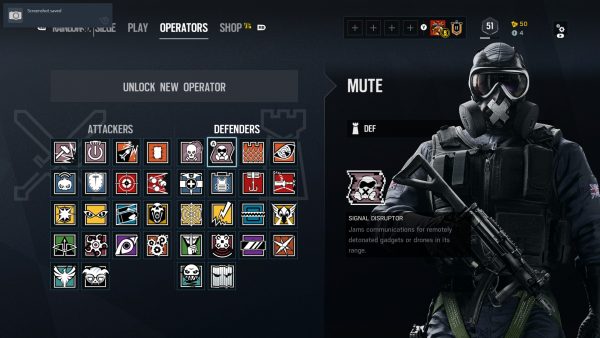 | | |
| --- | --- |
| Side | Defender |
| Role | Counter-Intel |
| CTU | SAS |
| Release | Original |
| Armor | Medium |
| Speed | Average |
Operator Tips
Mute's special Signal Disruptor is best used immediately when the round starts during the preparation phase. Lay them out at choke points coming towards the starting room to stop all drones in their place and hide the objective. It's best to put the disruptor just out of view of open door ways so Twitch's drone doesn't destroy it, and enemies can't spot and shoot them.
During the action phase, keep signal disruptors near the objective by barriers and reinforced walls. This will prevent anyone from using breach charges or other deadly Operator specific gadgets. Be wary, Thatcher's EMP grenades can destroy Mute's signal disruptors.
Unique Ability
Mute's unique ability is the Signal Disruptor, which jams communications for remote gadgets or drones within its range. This includes
Thermite's exothermic charges
Twitch's shock drones
Fuze's charges
Hibana's breach pellets
Dokkabei's logic bomb
Lion's EE-ONE-D
Breach charges
Drones
Unfortunately, the signal jammer must be placed on a flat surface. If it's not setting down, keep moving around until it gets placed. Hold the unique ability button to see each signal jammer's range. Four jammers are available per round. The jammer is vulnerable to firearms, explosives, Twitch's shock drones, and Thatcher's EMPs.
Primary Weapons
MP5K
Damage
30
(25 Suppressed)
Class
Submachine Gun
Fire Rate
800 RPM
Fire Mode
Full Auto
Semi Auto
3 Round Burst
Mobility
50
Sights
Red Dot
Holographic
Reflex
Magazine
30+1
Grips
-
MP Capacity
31/150
Barrel
Suppressor
Flash Hider
Compensator
Muzzle Brake
TH Capacity
31/180
Under Barrel
Laser
M590A1
Damage
48
Class
Shotgun
Fire Rate
-
Fire Mode
Pump Action
Mobility
50
Sights
Red Dot
Holographic
Reflex
Magazine
6+1
Grips
-
MP Capacity
7/29
Barrel
-
TH Capacity
7/78
Under Barrel
Laser
Secondary Weapons
P226 MK 25
Damage
78
Class
Handgun
Fire Rate
-
Fire Mode
Semi Auto
Mobility
45
Sights
-
Magazine
15+1
Grips
-
MP Capacity
16/60
Barrel
Suppressor
Muzzle Brake
TH Capacity
16/120
Under Barrel
Laser
SMG-11
Damage
35
(29 Suppressed)
Class
Machine Pistol
Fire Rate
1270 RPM
Fire Mode
Full Auto
Mobility
50
Sights
Red Dot
Holographic
Reflex
Magazine
16+1
Grips
Vertical Grip
MP Capacity
17/80
Barrel
Suppressor
Flash Hider
Compensator
Extended Barrel
TH Capacity
17/224
Under Barrel
Laser
Gadgets
| | |
| --- | --- |
| Nitro Cell | 1 remote-detonated bomb. Can be disarmed by shooting or blowing it up. |
| Bulletproof Camera | 1 camera that can see through thick smoke and withstand shots to its front face. Can be deployed on any flat surface large enough to hold it. |