Deprecated
: Array and string offset access syntax with curly braces is deprecated in
/home/hxchector/hxchector.com/wp-content/plugins/easy-table/inc/Encoding.php
on line
156
Deprecated
: Array and string offset access syntax with curly braces is deprecated in
/home/hxchector/hxchector.com/wp-content/plugins/easy-table/inc/Encoding.php
on line
158
Deprecated
: Array and string offset access syntax with curly braces is deprecated in
/home/hxchector/hxchector.com/wp-content/plugins/easy-table/inc/Encoding.php
on line
159
Deprecated
: Array and string offset access syntax with curly braces is deprecated in
/home/hxchector/hxchector.com/wp-content/plugins/easy-table/inc/Encoding.php
on line
160
Smoke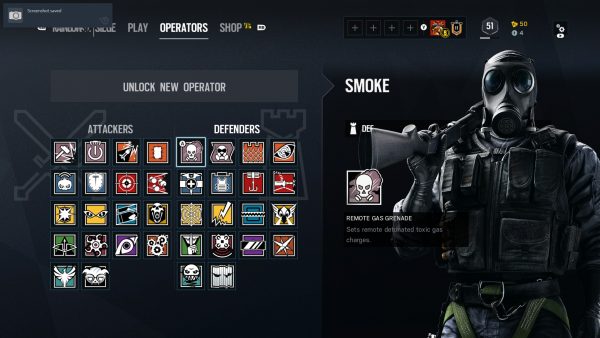 | | |
| --- | --- |
| Side | Defender |
| Role | Crowd Control |
| CTU | SAS |
| Release | Original |
| Armor | Medium |
| Speed | Average |
Operator Tips
Smoke is a defensive Operator with a heavy-duty gadget. It can greatly damage or quickly kill any Operator with any defenses. This also means you can easily kill your team on accident. Play defensively and use your gadget sparingly. It's perfect against enemy Operators who are hiding around corners or protected by shields.
Unique Ability
Smoke's unique abilities revolve around toxic gas. First, Smoke has a remote detonated toxic gas charge. Three gas grenades are available per round that can stick to any surface; however, only one can be set and detonated at a time before another can be used. Each bomb is vulnerable to firearms, explosives, electrified surfaces, and Thatcher's EMP grenades.
Furthermore, Smoke has a special gas mask that can withstand all of his own toxic fumes. Unfortunately, this means both enemy and friendly Operators can be injured and killed next to a gas cloud. This includes hostages which should never be killed!
Primary Weapons
FMG-9
Damage
34
(28 Suppressed)
Class
Submachine Gun
Fire Rate
800 RPM
Fire Mode
Full Auto
Semi Auto
Mobility
50
Sights
Red Dot
Reflex
Magazine
30+1
Grips
-
MP Capacity
31/150
Barrel
Suppressor
Flash Hider
Muzzle Brake
TH Capacity
31/180
Under Barrel
Laser
M590A1
Damage
48
Class
Shotgun
Fire Rate
-
Fire Mode
Pump Action
Mobility
50
Sights
Red Dot
Holographic
Reflex
Magazine
6+1
Grips
-
MP Capacity
7/29
Barrel
-
TH Capacity
7/78
Under Barrel
Laser
Secondary Weapons
P226 MK 25
Damage
78
Class
Handgun
Fire Rate
-
Fire Mode
Semi Auto
Mobility
45
Sights
-
Magazine
15+1
Grips
-
MP Capacity
16/60
Barrel
Suppressor
Muzzle Brake
TH Capacity
16/120
Under Barrel
Laser
SMG-11
Damage
35
(29 Suppressed)
Class
Machine Pistol
Fire Rate
1270 RPM
Fire Mode
Full Auto
Mobility
50
Sights
Red Dot
Holographic
Reflex
Magazine
16+1
Grips
Vertical Grip
MP Capacity
17/80
Barrel
Suppressor
Flash Hider
Compensator
Extended Barrel
TH Capacity
17/224
Under Barrel
Laser
Gadgets
| | |
| --- | --- |
| Barbed Wire | 2 bundles of barbed wire. Used to slow down enemies while attacking the base. |
| Deployable Shield | 1 Deployable Shield that can be used to create a makeshift barrier. Withstands all bullets, but not explosives. |