Dojima Residence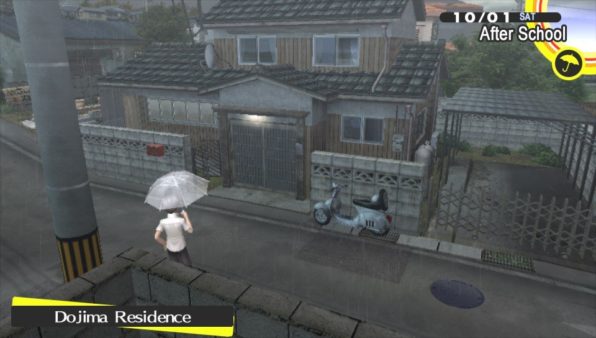 The Dojima Residence is your home during your stay in Inaba. The house is also home to Ryotaro Dojima, the owner and town police detective; as well as his young daughter, Nanako. Dojima is The Protagonist's uncle on his mother's side.
You'll notice that there is a motorcycle/scooter leaning against the house. This will be used later in the year to discover two new locations out of town.
Eventually, a cat will appear outside the front of the house. You will be able to spend time with it to increase your Expression.
There are two main areas in the Dojima Residence: the Living Room (downstairs) and Your Room (upstairs).
Living Room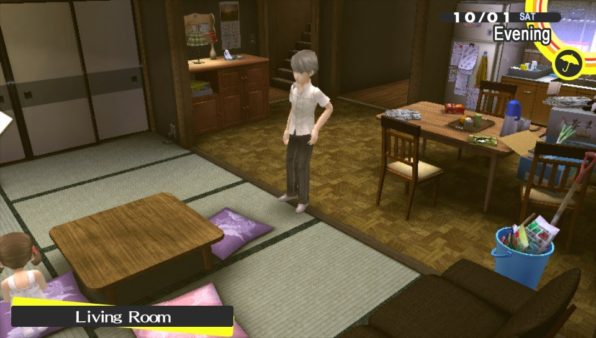 In the Living Room, there is a Calendar on the wall which the protagnist may use as a Save Point. Nanako is usually watching TV on the living room floor. Some days you will be able to spend time with either Nanako or Dojima.
The attached Kitchen is where you will find the Refrigerator, which will sometimes allow to make Boxed Lunches. Take the boxed lunches to school to share with a friend. Do this to increase your friendship with them and give a boost to their Social Link – the SL will not rank up, however. On some nights, the fridge will hold a single odd ingredient, and you will be prompted to eat/drink it. If you do so, you will increase your Courage Stat, but you will be sent straight to bed, and onto the next day.
Somewhat early in the game (May 22), you'll be able to start a Garden. This will cause a pail of tools to appear next to the couch and dinner table. You can interact with the bucket to plant seedlings, maintain the Garden (which spends time), or harvest vegetables.
You can access your room by walking over to the stairs and pressing X.
Your Room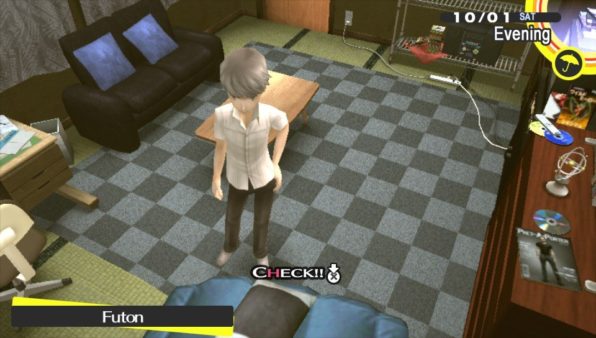 In your room, you will find the typical high school student's necessities. Each area has its own use:
Study Desk – Used for studying (increases Knowledge)
Sofa – Used for reading books, which can raise several stats and grant useful bonuses in the game.
Shelf – Used to hold models.
Work Table – Used for folding envelopes, translating, or building models.
TV– Used for viewing the Midnight Channel, Weather forecast, and Home Shopping Channel (Tanaka's Amazing Commodities)
Futon – Used to sleep and progress to the next day. Sometimes, you will dream about someone, increasing your friendship with them.