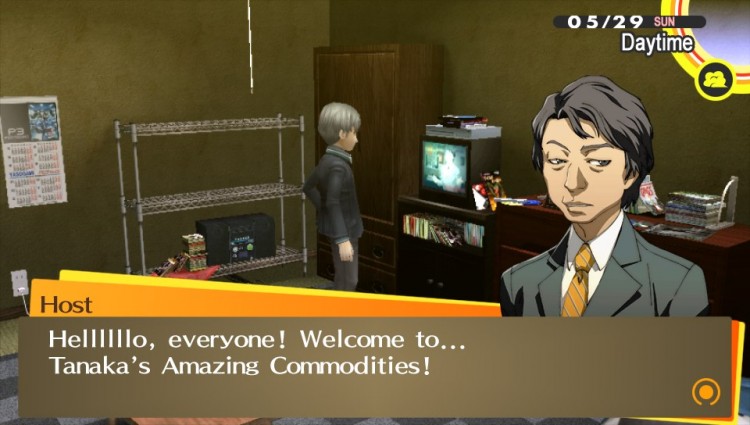 Tanaka's Amazing Commodities
Tanaka's Amazing Commodities is a Home Shopping T.V. Program that can be watched and used on Sunday, monday, and Tuesdays inside your room at the Dojima Residence. It first becomes available on May 29th. Watching the program doesn't pass the time from one part of the day to the other.
The program will offer two different products at two different prices. You can choose to buy one of the two, or just skip out on them. After two days, the item(s) will arrive at your front door.
Buy a package to also obtain a Prize Sticker. When you have collected three Prize Stickers, they can be mailed using one of the mailbox in the Central Shopping District. Either choose the plentiful bundle or rare bundle to receive a random item or set of items. All items should take two days to reach the house.
Possible Items
Adios Shoes
Attack 110
Hit 82
Effect: +3 Agility
Jingi Fundoshi
Defense: 72
Evasion: 23
Effect: +10HP
Power Belt
Effect: Increases Strength By 2.
Myth-like Sword
Attack: 140
Hit: 80
Effect: None
Armada Bustier
Defense: 118
Evasion: 25
Effect: +5 Magic
Maneki Neko
Effect: Increases Luck by 4
Wooden Bat
Attack: 200
Hit: 30
Effect: +Critical Rate Up (low)
Charm Drape
Defense: 167
Evasion: 24
Effect: +5 Endurance
Death Scudetto
Attack: 260
Hit: 50
Effect: +2 Luck
Peach Battlesuit
Defense: 211
Evasion: 4
Effect: + evade physical (low)
Red Battlesuit
Defense: 216
Evasion: 26
Effect: + Reduce phys damage 20%
Pure assassin
Attack: 300
Hit: 75
Effect: +Poison (med odds)