Mahakala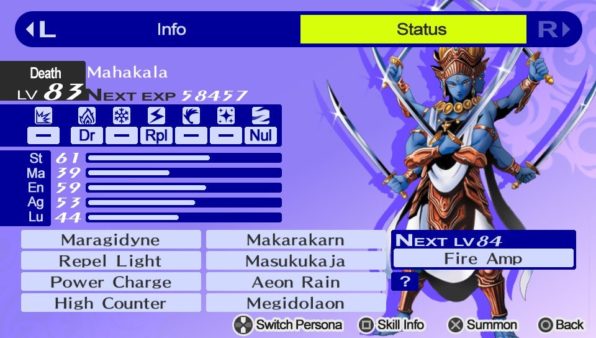 Mahakala is a persona of the Death arcana. It specializes in Physical attacks. It's default level is 78.
Info
Indian god who repels evil, known as Daikokuten in Buddhism. Its swords are fearsome, but by paying tribute to him, believers may be blessed with tremendous wealth and happiness.
How to Obtain
Mahakala can only be obtained by Fusion once you have maximized the Death Social Link with Hisano.
A hexagon fusion of these persona is required to create Mahakala:
Matador (Death)
Daisoujou (Hierophant)
Mother Harlot (Empress)
White Rider (Death)
Trumpeter (Judgement)
Hell Biker (Hanged Man)
Affinities
[table class="table-bordered" align="center" width="100%" colalign="center|center|center|center|center|center|center"]
Phys.|Fire|Ice|Elec.|Wind|Light|Dark
-|Dr|-|Rpl|-|-|Nul
[/table]
Skill List
[table class="table-bordered" align="center" width="100%" colalign="left|left|left|left"]
Skill|Level|Element|Cost
Agidyne|-|Fire|12SP
Myriad Arrows|-|Physical|22%HP
Power Charge|-|N/A|15SP
Mind Charge|80|N/A|15SP
Maragidyne|82|Fire|22SP
Mamudoon|83|Darkness|34SP
Fire Amp|84|Fire|Passive
Mudo Boost|85|Darkness|Passive
[/table]