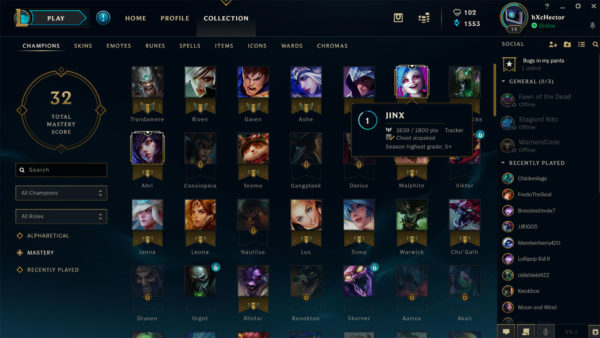 Champion Mastery
Champion Mastery is the system that shows how often and how great a player is with a particular Champion. Since all Champion levels reset at the start of battle, something was needed to show a Summoner's skill with each character. Look for special badges around a Summoner's card or by clicking the Champion's picture when a game is loading.
After completing a game, a grade and champion points will be displayed in the results screen. The grade shows how well you did based on other people in your region of the world who also use that character. Grades are on a scale from S to D with pluses and minuses in between. The highest possible grade is an S+, and the lowest is a D-.
Champion Points are based on your performance, your team's performance, the length of the game, whether or not your team won the game, and much more. CP can be increased if you create a party and play with friends.
| Party Size | Premade Bonus |
| --- | --- |
| 1 Player | No bonus |
| 2 Players | 2% CP Bonus |
| 3 Players | 4% CP Bonus |
| 4 Players | 6% CP Bonus |
| 5 Players | 10% CP Bonus |
Earn CP to increase your Champion's mastery level. A Champion will begin at mastery level 1 with 0 CP. Reach a certain CP limit to level up that Champion. Upon mastery level 5, a Champion will earn mastery tokens for playing Summoner's Rift games and receiving a S rank. Combine a set amount of tokens with that same Champion's shards or permanents in your loot to reach the next mastery level.

| Level | Requirement | Reward |
| --- | --- | --- |
| 1 | - | Title |
| 2 | 1800 CP | Title |
| 3 | 6000 CP | Title |
| 4 | 12600 CP | Title, Mastery Badge Emote, Loading Screen Border, Announcement Banner |
| 5 | 21600 CP | Title, Mastery Badge Emote, Loading Screen Border, Announcement Banner |
| 6 | Combine two Mastery 6 tokens with that champion's Hextech shard, permanent, or 2450 Blue Essence | Title, Mastery Badge Emote, Loading Screen Border, Announcement Banner |
| 7 | Combine three Mastery 7 tokens with that champion's Hextech shard, permanent, or 2950 Blue Essence | Title, Mastery Badge Emote, Loading Screen Border, Announcement Banner |
The title each Champion receives depends entirely on the role they are assigned. All Jinx are Marksman, therefore a level 3 Jinx will have the mastery title of "Scout."
| Lv | Assassin | Fighter | Mage | Marksman | Support | Tank |
| --- | --- | --- | --- | --- | --- | --- |
| 1 | Rogue | Scrapper | Initiate | Tracker | Aide | Grunt |
| 2 | Prowler | Brawler | Conjurer | Strider | Protector | Bruiser |
| 3 | Cutthroat | Warrior | Invoker | Scout | Keeper | Bulwark |
| 4 | Reaper | Veteran | Magus | Ranger | Defender | Enforcer |
| 5 | Slayer | Destroyer | Warlock | Pathfinder | Guardian | Brute |
| 6 | Executioner | Warmonger | Sorcerer | Sharpshooter | Sentinel | Colossus |
| 7 | Deathmaster | Warlord | Archmage | Sniper | Warden | Juggernaut |