How to Unlock Items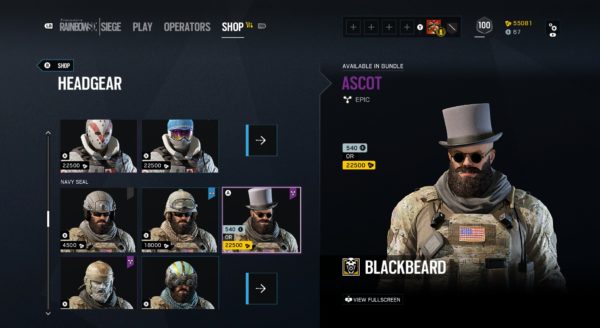 Rainbow Six Siege features various aesthetic items to customize your favorite Operator. These items are purely for show and do not alter gameplay other than visual appearance. There are four different item sections in Rainbow Six Siege.
Each item has a rarity which determines the cost of unlocking it or the chance of receiving it in an Alpha Pack. The tiers of rarity are common, uncommon, rare, epic, and legendary. A specific item can be purchased/unlocked with the in-game currency Renown, a random item can be unlocked with an Alpha Pack, or an item can be purchased with the micro-transaction coins known as R6 Credits alone or in a bundle. However, there are a handful of items that can only be unlocked with either Renown, R6 Credits, or actual cash from the store.
| | |
| --- | --- |
| Headgear | Uniforms |
| | |
| This is the Operator skin that covers the entire region above the shoulders. While the majority are available through Renown and R6 Credits, Legacy Operators have at least one piece of headgear that can only be purchased with ~1000 R6 Credits. This item can be mixed and matched with any uniform unless they're part of an Elite set. | This is the Operator skin that covers the entire body, but not the head. This can be mixed and matched with any headgear unless they're part of an Elite set. |
| Charms | Weapon Skins |
| | |
| This is the small item that dangles from the side of your larger guns (all primary weapons and select sidearms), and either dangles from the top or sits on the bottom of the bulletproof window on shields. Once unlocked, a Charm can be used on any weapon that holds charms. | Weapon Skins are the camouflage and paint jobs of weapons. Some weapon skins are universal, and can be applied to any weapon. Some skins are available only for a particular weapon, like the MP5SD, but not the MP5. There is one weapon skin (Diamond camo) that can only be unlocked with 100,000 Renown. Any DLC weapon skins purchased with actual money outside of the Rainbow Six Siege shop are universal skins unless packaged with a single Operator. For example, the emerald weapon skin is universal, but Ash Watch_Dogs set is only for Ash and her weapons. |
Renown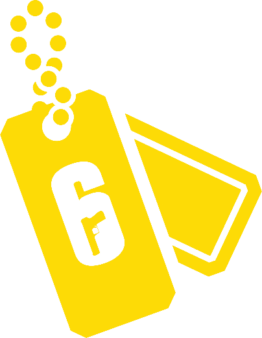 The primary currency in Rainbow Six Siege is called Renown. It is shown by golden dog tags in the top-right corner of the menu screen. Renown is earned alongside XP after playing Situations, Terrorist Hunt, Multiplayer, or completing Daily and Weekly challenges. Ubisoft estimates that it'll take 30 minutes to 2 hours to earn 500 to 2000 Renown.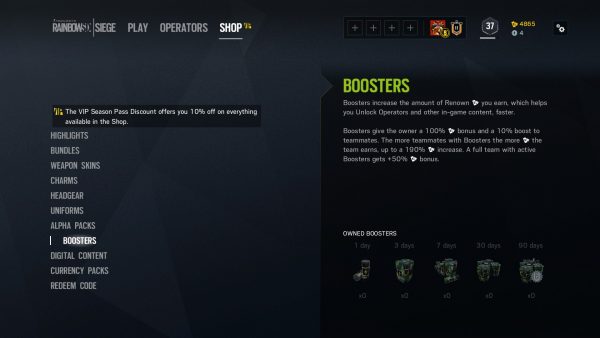 Purchase and activate Boosters to gain a 100% (2x) Renown bonus while giving teammates a 10% (1.1x) Renown boost. The more teammates with boosters, the more Renown will be earned all the way up to a 190% (2.9x) increase. After purchasing a booster from the shop using R6 Credits, activate it at the main Rainbow Six Siege menu. All Renown earned in game will be increased until the booster's timer runs out. If you're currently in a match, the Renown boost will remain active until after the results of the match.
| Boosters | Price | Discount Price |
| --- | --- | --- |
| 1 Day | 162 R6 Credits | - |
| 3 Days | 370 R6 Credits | 342 R6 Credits |
| 7 Days | 720 R6 Credits | - |
| 30 Days | 1890 R6 Credits | - |
| 90 Days | 5670 R6 Credits | 3780 R6 Credits |
R6 Credits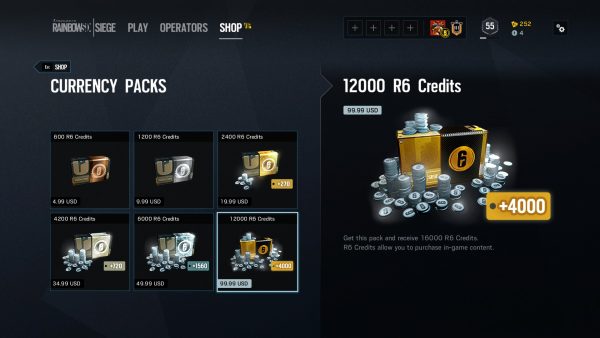 The micro transaction coins used in Rainbow Six Siege are called R6 Credits. They can only be purchased with real money, and the prices are listed in the table below. The bonus credits will be automatically added to the base credits. If you buy the $99.99 pack, you will receive a total of 16000 R6 Credits. The bonus credits might change in the future.
| R6 Credits | USD Price | Bonus |
| --- | --- | --- |
| 600 | $4.99 | - |
| 1200 | $9.99 | - |
| 2400 | $19.99 | +270 R6 Credits |
| 4200 | $34.99 | +720 R6 Credits |
| 6000 | $49.99 | +1560 R6 Credits |
| 12000 | $99.99 | +4000 R6 Credits |
Alpha Packs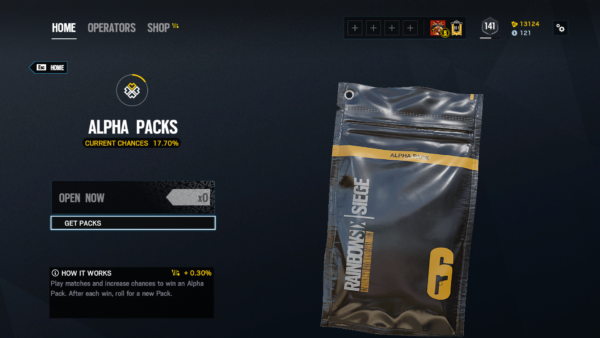 In addition to unlocking items from earning Renown or buying R6 Credits, a random item can be unlocked through a special type of 'loot crate' in Rainbow Six Siege known as Alpha Packs. Each Alpha Pack contains a single random aesthetic item that can be purchased from the Shop from the main four categories: headgear, uniform, charm, and weapon skin. Items found in Alpha Packs can be common, uncommon, rare, epic, or legendary. If you receive a duplicate item that has already been unlocked, you will receive a certain amount of Renown based on the item's rarity.
The packs can be either won at the end of a multiplayer match or purchased with Renown. Buying packs is simple enough to understand. Simply go to the alpha packs option from the main menu, select "get alpha packs," and use Renown you've earned in game. There's a table below listing the amount of Alpha Packs you can buy with Renown.
| Packs | Price | VIP Price |
| --- | --- | --- |
| 1 | 5000 Renown | 4500 Renown |
| 5 | 2500 Renown | 22500 Renown |
| 25 | 120000 Renown | 100800 Renown |
| 50 | 200000 Renown | 180000 Renown |
Obtaining Alpha Packs through Multiplayer is partially luck and partially team skill. Players must win a casual or ranked multiplayer match to roll for a chance to win a single pack. A circle with a thick line will spin on screen during this "roll." If the arrow on the right side of the circle lands within the thick line, you'll win an Alpha Pack; but if it doesn't, your chances to win one will increase a small amount. VIP / Season Pass holders will receive an additional 0.30% increase after each match, regardless of the team winning or losing.
| Multiplayer | Result | Increase |
| --- | --- | --- |
| Casual | Lose | 1.50% |
| Casual | Win | 2.50% |
| Ranked | Lose | 2.50% |
| Ranked | Win | 3.00% |