Maverick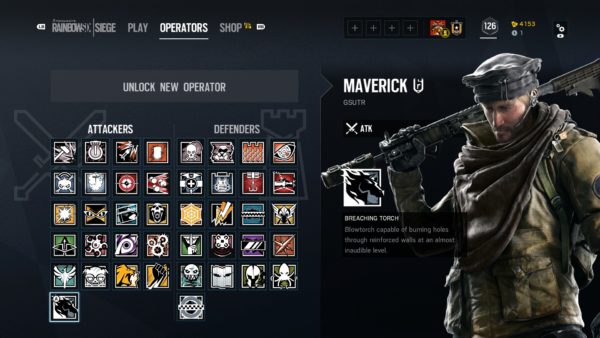 | | |
| --- | --- |
| Type | Attacker |
| CTU | GSUTR |
| Release | Year Three, Season Three |
| Armor | Light |
| Speed | Fast |
Operator Tips
Maverick's breaching torch isn't meant to create entire doors or windows like Hibana and Thermite. Instead, use the blowtorch to secretly cut a hole in a barricade, normal wall, or reinforced surface. Use the hole to send in a drone, a grenade, silently eliminate any Operators, or even plant a bomb!
Unique Ability
Maverick's unique ability is his Breaching Torch. This is a simple blowtorch that can melt any destructible surface while barely making a sound. Nothing will catch fire in the game, not even the wooden barricades; instead, they will all break down after a few seconds of being torched.
The Breaching Torch comes equipped with five gas canisters. Each gas canister will fuel the torch for a max of four seconds. The torch is also great when used against Maestro's Evil Eye.
Primary Weapons
AR-15.50

| | |
| --- | --- |
| Class | Assault Rifle |
| Fire Mode | Semi Auto |
| Damage | 62 (52 Suppressed) |
| Fire Rate | - |
| Mobility | 50 |
| Capacity | 11/60 |
M4

| | |
| --- | --- |
| Class | Assault Rifle |
| Fire Mode | Full Auto / 3 Round Burst / Semi Auto |
| Damage | 44 (37 Suppressed) |
| Fire Rate | 750 RPM |
| Mobility | 50 |
| Capacity | 31/150 |
Secondary Weapons
1911 TACOPS

| | |
| --- | --- |
| Class | Handgun |
| Fire Mode | Semi Auto |
| Damage | 55 (46 Suppressed) |
| Fire Rate | - |
| Mobility | 45 |
| Capacity | 9/32 |
Gadgets
| | |
| --- | --- |
| Stun Grenade | 3 grenades that detonate two seconds after being thrown. They impair the vision and hearing of all Operators near the explosion for several seconds. Use it to blind and deafen a room filled with enemies before clearing it out. |
| Claymore | 1 motion-triggered explosive mine. Set it in door ways or protect objectives with these. |