Maestro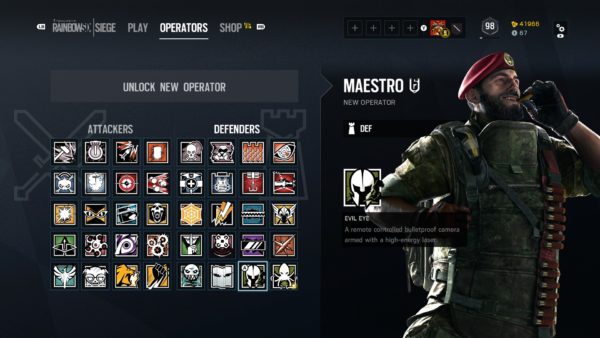 | | |
| --- | --- |
| Type | Defender |
| CTU | GIS |
| Release | Year Three, Season Two |
| Armor | Heavy |
| Speed | Slow |
Operator Tips
Maestro is a new defensive tech. Use his heavy weapons and special equipment to hold down the fort against the toughest opponents.
Unique Ability
Maestro's unique ability is the Evil Eye, a heavy-duty camera armed with a high-energy laser. Two are available per round.
The evil eye will automatically be in the defensive position where a bulletproof shield protects the camera. The camera has a full 180 degree spin capability and higher quality than normal security cameras. All friendly Operators can operate the evil eye's camera.
The shell will protect it from being destroyed by Thatcher's EMPs and Twitch's shock drone's tazer, but it will become disabled for a short time and open its bulletproof shield halfway. Maverick's blowtorch will destroy it with a single blast.
Switch to attack mode by opening the bulletproof glass, making the laser operational. The laser only causes 5 HP damage per hit, cannot pierce through surfaces, and can overheat after 25 consecutive shots. Furthermore, being in attack mode will leave the evil eye vulnerable to any damage from firearms and explosives, and even Twitch's shock drone will destroy the evil eye when opened.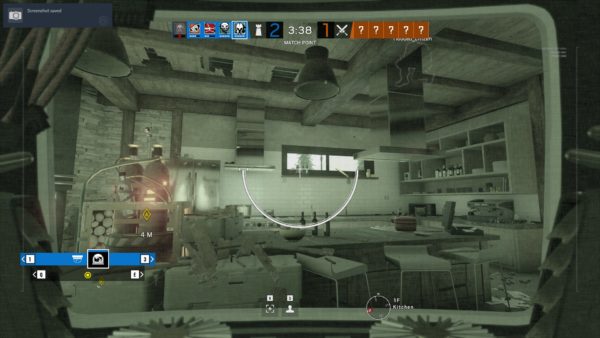 Primary Weapons
ALDA 5.56

| | |
| --- | --- |
| Class | Light Machine Gun |
| Fire Mode | Full Auto |
| Damage | 35 (29 Suppressed) |
| Fire Rate | 900 RPM |
| Mobility | 50 |
| Capacity | 81/160 |
ACS12

| | |
| --- | --- |
| Class | Shotgun |
| Fire Mode | Full Auto |
| Damage | 27 |
| Fire Rate | 300 RPM |
| Mobility | 50 |
| Capacity | 31/90 |
Secondary Weapons
Bailiff 410

| | |
| --- | --- |
| Class | Handgun |
| Fire Mode | Revolver |
| Damage | 30 |
| Fire Rate | - |
| Mobility | 45 |
| Capacity | 5/30 |
KERATOS .357

| | |
| --- | --- |
| Class | Handgun |
| Fire Mode | Revolver |
| Damage | 78 (66 Suppressed) |
| Fire Rate | - |
| Mobility | 45 |
| Capacity | 6/48 |
Gadgets
| | |
| --- | --- |
| Barbed Wire | 3 bundles of barbed wire. Used to slow down enemies while attacking the base. |
| Deployable Shield | 1 Deployable Shield that can be used to create a makeshift barrier. Withstands all bullets, but not explosives. |