Jackal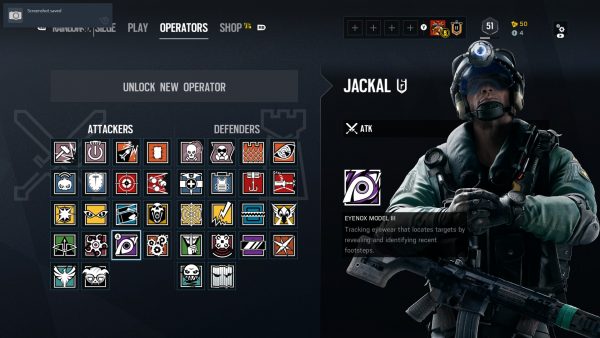 | | |
| --- | --- |
| Side | Attacker |
| Role | Intel |
| CTU | GEO |
| Release | Year Two, Season One |
| Armor | Medium |
| Speed | Average |
Operator Tips
Jackal is a predator-type attacker. His special ability is a visor that spots enemy footsteps, automatically identifies the Operator, and allows you to track them down. You can either try suppressed weapons to sneak up on the enemy team, or use a more impactful loadout to blast through walls and take them by surprise.
Unique Ability
Jackal's unique ability is the Eyenox Model III, a tracking eyewear that locates targets by revealing and identifying recent footsteps. This ability can be used a total of three times per round. Simply activate the headgear, look around for footsteps, and scan them to start tracking one of the five Operators from the opposing team.
When an Operator is being tracked, they will be notified by the game's HUD, placing them on alert. Be very careful as you hunt the world's most dangerous game.
Primary Weapons
C7E

| | |
| --- | --- |
| Class | Assault Rifle |
| Fire Mode | Full Auto / 3 Round Burst / Semi Auto |
| Damage | 46 (39 Suppressed) |
| Fire Rate | 800 RPM |
| Mobility | 50 |
| Capacity | 31/210 |
PDW9

| | |
| --- | --- |
| Class | Submachine Gun |
| Fire Mode | Full Auto / 3 Round Burst / Semi Auto |
| Damage | 34 (28 Suppressed) |
| Fire Rate | 800 RPM |
| Mobility | 50 |
| Capacity | 51/250 |
ITA12L

| | |
| --- | --- |
| Class | Shotgun |
| Fire Mode | Pump Action |
| Damage | 50 |
| Fire Rate | - |
| Mobility | 50 |
| Capacity | 8/33 |
Secondary Weapons
USP40

| | |
| --- | --- |
| Class | Handgun |
| Fire Mode | Semi Auto |
| Damage | 48 (40 Suppressed) |
| Fire Rate | - |
| Mobility | 50 |
| Capacity | 13/48 |
ITA12S

| | |
| --- | --- |
| Class | Shotgun |
| Fire Mode | Pump Action |
| Damage | 70 |
| Fire Rate | - |
| Mobility | 50 |
| Capacity | 5/31 |
Gadgets
| | |
| --- | --- |
| Breach Charge | 3 charges that are used to blow open breakable surfaces. Get the jump on enemies or create new lines of sight. |
| Smoke Grenade | 2 Smoke Grenades that detonate two seconds after hitting the ground. |