Tachanka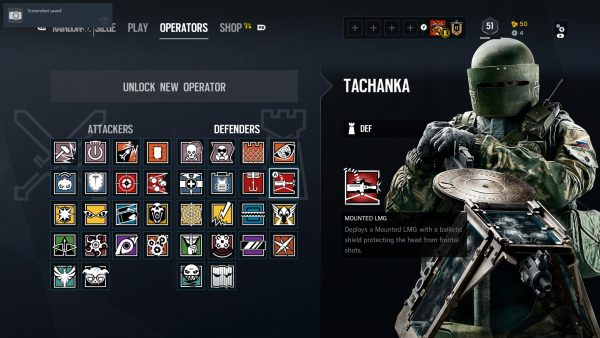 | | |
| --- | --- |
| Type | Defender |
| CTU | Spetsnaz |
| Release | Original |
| Armor | Heavy |
| Speed | Slow |
Operator Tips
Tachanka is a heavy duty defense Operator. Use his mounted LMG to suppress any enemies coming into the objective. Try setting a deployable shield near the mounted machine gun to protect both your feet and your head while firing. If the mount prevents you from spinning towards an enemy, quickly dismount and take them out with the shotgun or SMG.
Unique Ability
Tachanka's unique ability is a Mounted LMG with ballistic shield. The light machine gun is equipped with 61/179 ammunition, which are high damage and high penetration rounds.
The ballistic shield can withstand a small amount of firearm damage to the head before breaking, but the entire lower body is completely exposed.
Primary Weapons
SASG-12

| | |
| --- | --- |
| Class | Shotgun |
| Fire Mode | Semi Auto |
| Damage | 50 (42 Suppressed) |
| Fire Rate | - |
| Mobility | 50 |
| Capacity | 11/30 |
9x19VSN

| | |
| --- | --- |
| Class | Submachine Gun |
| Fire Mode | Full Auto / Semi Auto |
| Damage | 34 (28 Suppressed) |
| Fire Rate | 750 RPM |
| Mobility | 50 |
| Capacity | 31/150 |
Secondary Weapons
GSH-18

| | |
| --- | --- |
| Class | Handgun |
| Fire Mode | Semi Auto |
| Damage | 44 (37 Suppressed) |
| Fire Rate | - |
| Mobility | 50 |
| Capacity | 19/54 |
PMM

| | |
| --- | --- |
| Class | Handgun |
| Fire Mode | Semi Auto |
| Damage | 61 (51 Suppressed) |
| Fire Rate | - |
| Mobility | 50 |
| Capacity | 9/40 |
Gadgets
| | |
| --- | --- |
| Barbed Wire | 3 bundles of barbed wire. Used to slow down enemies while attacking the base. |
| Deployable Shield | 1 Deployable Shield that can be used to create a makeshift barrier. Withstands all bullets, but not explosives. |