Pulse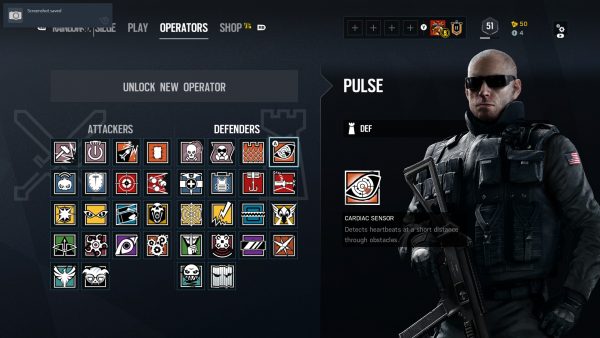 | | |
| --- | --- |
| Side | Defender |
| Role | Intel |
| CTU | FBI SWAT |
| Release | Original |
| Armor | Light |
| Speed | Fast |
Operator Tips
Pulse's unique ability isn't anything special. While it's easy to confirm an enemy's location when they're right on the other side of the wall, listening for footsteps and checking cameras is just as effective.
Unique Ability
Pulse's unique ability is the Cardiac Sensor. This gadget detects heartbeats at a short distance through obstacles.
While the equipment can be used an infinite number of times per round, no weapons can be used while looking at the monitor. Pulse will become completely vulnerable until he puts away his sensor and brings out his gun.
Primary Weapons
M1014

| | |
| --- | --- |
| Class | Shotgun |
| Fire Mode | Semi Auto |
| Damage | 34 |
| Fire Rate | - |
| Mobility | 50 |
| Capacity | 8/25 |
UMP45

| | |
| --- | --- |
| Class | Submachine Gun |
| Fire Mode | Full Auto / 3 Round Burst / Semi Auto |
| Damage | 38 (32 Suppressed) |
| Fire Rate | 600 RPM |
| Mobility | 50 |
| Capacity | 26/150 |
Secondary Weapons
M45 MEUSOC

| | |
| --- | --- |
| Class | Handgun |
| Fire Mode | Semi Auto |
| Damage | 58 (49 Suppressed) |
| Fire Rate | - |
| Mobility | 50 |
| Capacity | 8/49 |
5.7 USG

| | |
| --- | --- |
| Class | Handgun |
| Fire Mode | Semi Auto |
| Damage | 42 (35 Suppressed) |
| Fire Rate | - |
| Mobility | 50 |
| Capacity | 21/60 |
Gadgets
| | |
| --- | --- |
| Barbed Wire | 3 bundles of barbed wire. Used to slow down enemies while attacking the base. |
| Nitro Cell | 1 remote-detonated bomb. Can be disarmed by shooting or blowing it up. |