Castle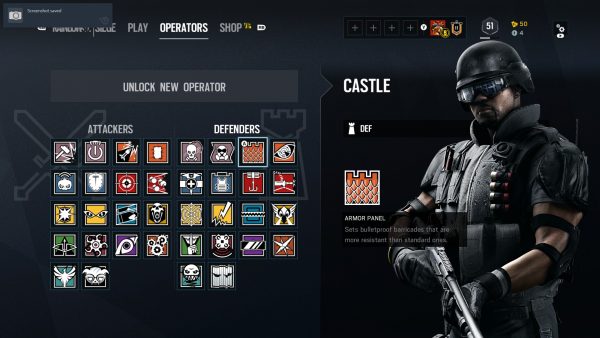 | | |
| --- | --- |
| Side | Defender |
| Role | Support |
| CTU | FBI SWAT |
| Release | Original |
| Armor | Medium |
| Speed | Average |
Operator Tips
Castle can help make the main objective room fort knox. Barricade the doors and windows with Castle's armor panels, and reinforce any breakable walls with steel. Only a handful of operators will be able to make it through, and they won't do so silently.
Unique Ability
Castle's unique ability is the Armor Panel, a bulletproof barricade that is more resistant than standard barricades. It can withstand shots from all types of firearms with the exception of marksman rifles.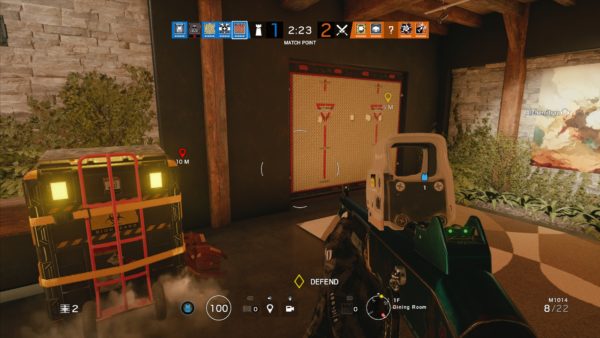 However, the armor panel can still be breached with several melee hits, sledge's Caber, breach charges, or any other explosive. Windows will be completely sealed, but doorways will still have a gap at the bottom allowing drones to slip through. Three armor panels are available per round.
Primary Weapons
UMP45

| | |
| --- | --- |
| Class | Submachine Gun |
| Fire Mode | Full Auto / 3 Round Burst / Semi Auto |
| Damage | 38 (32 Suppressed) |
| Fire Rate | 600 RPM |
| Mobility | 50 |
| Capacity | 26/150 |
M1014

| | |
| --- | --- |
| Class | Shotgun |
| Fire Mode | Semi Auto |
| Damage | 34 |
| Fire Rate | - |
| Mobility | 50 |
| Capacity | 8/25 |
Secondary Weapons
5.7 USG

| | |
| --- | --- |
| Class | Handgun |
| Fire Mode | Semi Auto |
| Damage | 42 (35 Suppressed) |
| Fire Rate | - |
| Mobility | 50 |
| Capacity | 21/60 |
M45 MEUSOC

| | |
| --- | --- |
| Class | Handgun |
| Fire Mode | Semi Auto |
| Damage | 58 (49 Suppressed) |
| Fire Rate | - |
| Mobility | 50 |
| Capacity | 8/49 |
Gadgets
| | |
| --- | --- |
| Bulletproof Camera | 1 camera that can see through thick smoke and withstand shots to its front face. Can be deployed on any flat surface large enough to hold it. |
| Impact Grenade | 2 explosive Grenades that detonate on impact. Use them to blow open walls and create new lines of sight. |