Smoke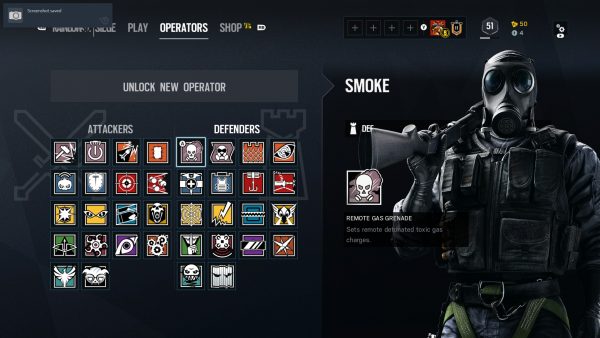 | | |
| --- | --- |
| Side | Defender |
| Role | Crowd Control |
| CTU | SAS |
| Release | Original |
| Armor | Medium |
| Speed | Average |
Operator Tips
Smoke is the only Operator that is equipped to withstand his own toxic gas charges, so be very careful you don't team kill. Set a charge at a choke point somewhere in the map and detonate it when the enemies come through. Make note, the gas bombs can be destroyed with a bullet or explosion.
Unique Ability
Smoke's unique abilities revolve around toxic gas. First, Smoke has a remote detonated toxic gas charge. These gas grenades can stick to any surface, but only one can be set and detonated at a time before another can be used. Three gas charges are available per round. They are vulnerable to firearms, explosives, electrified surfaces, and Thatcher's EMPs.
Furthermore, Smoke has a special gas mask that can withstand all of his own toxic fumes. Unfortunately, this means all friendly and enemy Operators can be injured and killed next to a gas cloud. This includes hostages during defense rounds!
Primary Weapons
FMG-9

| | |
| --- | --- |
| Class | Submachine Gun |
| Fire Mode | Full Auto / Semi Auto |
| Damage | 30 (25 Suppressed) |
| Fire Rate | 800 RPM |
| Mobility | 50 |
| Capacity | 31/150 |
M590A1

| | |
| --- | --- |
| Class | Shotgun |
| Fire Mode | Pump-Action |
| Damage | 48 |
| Fire Rate | - |
| Mobility | 50 |
| Capacity | 7/29 |
Secondary Weapons
P226 MK25

| | |
| --- | --- |
| Class | Handgun |
| Fire Mode | Semi Auto |
| Damage | 50 (42 Suppressed) |
| Fire Rate | - |
| Mobility | 50 |
| Capacity | 16/60 |
SMG-11

| | |
| --- | --- |
| Class | Machine Pistol |
| Fire Mode | Full Auto |
| Damage | 35 (29 Suppressed) |
| Fire Rate | 1270 RPM |
| Mobility | 50 |
| Capacity | 17/80 |
Gadgets
| | |
| --- | --- |
| Barbed Wire | 3 bundles of barbed wire. Used to slow down enemies while attacking the base. |
| Impact Grenade | 2 explosive Grenades that detonate on impact. Use them to blow open walls and create new lines of sight. |