The two types of currency that are used in Rainbow Six Siege are Renown and R6 Credits. Both can be found at the top-right corner of the screen while at the main menu. Renown is on top in gold, and R6 Credits are below in silver.
Renown
Renown is the in-game currency in Rainbow Six Siege. This is earned alongside XP after playing Situations, Terrorist Hunt, Multiplayer, or completing Daily and Weekly challenges. Ubisoft estimates that it'll take 30 minutes to 2 hours to earn 500 to 2000 Renown.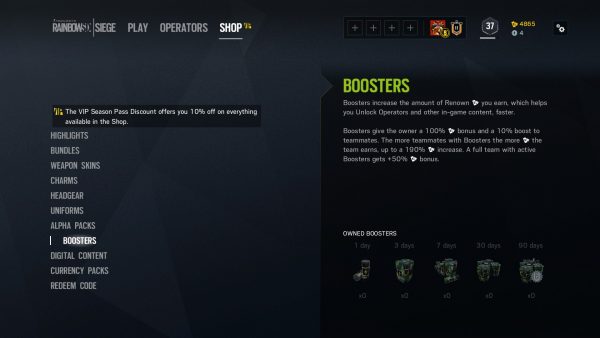 Boosters give the user a 100% (2x) Renown bonus while giving teammates a 10% Renown boost. The more teammates with boosters, the more Renown will be earned all the way up to a 190% increase. After purchasing a booster from the shop using R6 Credits, activate it at the main Rainbow Six Siege menu. All Renown earned in game will be increased until the booster's timer runs out. If you're currently in a match, the Renown boost will remain active until after the results of the match.
| Boosters | Price | Discount Price |
| --- | --- | --- |
| 1 Day | 162 R6 Credits | - |
| 3 Days | 370 R6 Credits | 342 R6 Credits |
| 7 Days | 720 R6 Credits | - |
| 30 Days | 1890 R6 Credits | - |
| 90 Days | 5670 R6 Credits | 3780 R6 Credits |
R6 Credits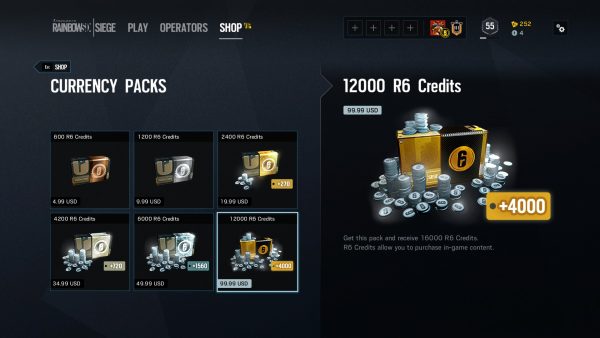 R6 Credits in Rainbow Six Siege are the micro transactions of the game. They can only be purchased with real money, and the prices are listed in the table below. The bonus credits will be automatically added to the base credits. If you buy the $99.99 pack, you'll actually receive a total of 16000 R6 Credits. The bonus credits might change in the future.
| R6 Credits | USD Price | Bonus |
| --- | --- | --- |
| 600 | $4.99 | - |
| 1200 | $9.99 | - |
| 2400 | $19.99 | +270 R6 Credits |
| 4200 | $34.99 | +720 R6 Credits |
| 6000 | $49.99 | +1560 R6 Credits |
| 12000 | $99.99 | +4000 R6 Credits |