Glaz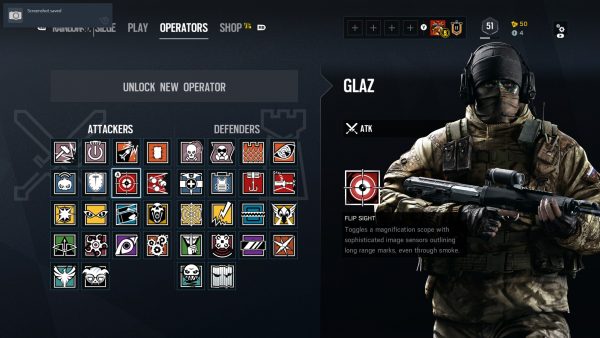 | | |
| --- | --- |
| Type | Attacker |
| CTU | Spetsnaz |
| Release | Original |
| Armor | Heavy |
| Speed | Slow |
Operator Tips
Glaz is a long-range Operator. His only primary weapon is a marksman rifle with a toggle scope that can highlight enemies through low visibility.
Unique Ability
Glaz's unique ability is a magnification scope with sophisticated image sensors. Toggle this weapon sight to see long distances and highlight enemy combatants in yellow.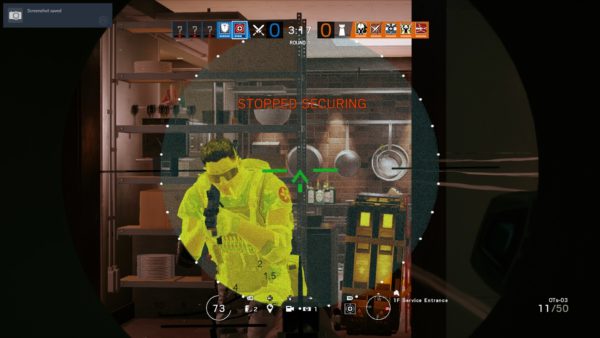 This allows Glaz to be the only true sniper in the game. Toggle the scope off to use the rifle with normal weapon sights at medium ranges.
Primary Weapons
OTs-03

| | |
| --- | --- |
| Class | Marksman Rifle |
| Fire Mode | Semi Auto |
| Damage | 85 (72 Suppressed) |
| Fire Rate | - |
| Mobility | 36 |
| Capacity | 11/50 |
Secondary Weapons
GSH-18

| | |
| --- | --- |
| Class | Handgun |
| Fire Mode | Semi Auto |
| Damage | 44 (37 Suppressed) |
| Fire Rate | - |
| Mobility | 50 |
| Capacity | 19/54 |
PMM

| | |
| --- | --- |
| Class | Handgun |
| Fire Mode | Semi Auto |
| Damage | 61 (51 Suppressed) |
| Fire Rate | - |
| Mobility | 50 |
| Capacity | 9/40 |
Gadgets
| | |
| --- | --- |
| Smoke Grenade | 2 Smoke Grenades that detonate two seconds after hitting the ground. |
| Claymore | 1 motion-triggered explosive mine. Set it in door ways or protect objectives with these. |