Ash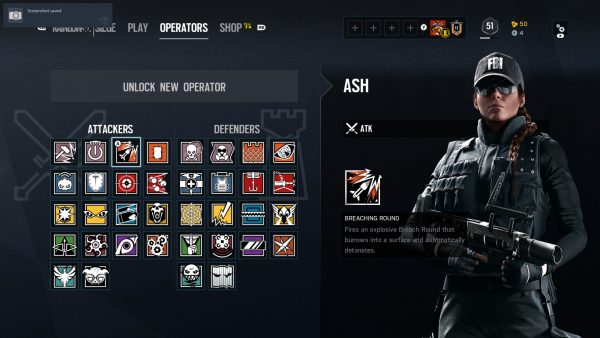 | | |
| --- | --- |
| Type | Attacker |
| CTU | FBI SWAT |
| Release | Original |
| Armor | Light |
| Speed | Fast |
Operator Tips
Ash is a speedy attack Operator. Use her to hit hard and fast. Her special ability is a grenade launcher that is used to blow up breakable surfaces. Throw a flashbang before entering a room and eliminate any enemies with Ash's powerful and accurate assault rifles.
Unique Ability
Ash's unique ability is a single fire grenade launcher. Switch to the grenade launcher to fire an explosive Breach Round that burrows into a surface and automatically detonates. Each grenade will detonate about a second after hitting a surface, but the explosion only has enough power to break through destructible surfaces.
The grenade launcher will have two shots per round: one grenade is loaded in the chamber, and one grenade is stockpiled.
Primary Weapons
G36C

| | |
| --- | --- |
| Class | Assault Rifle |
| Fire Mode | Full Auto / Semi Auto |
| Damage | 38 (32 Suppressed) |
| Fire Rate | 780 RPM |
| Mobility | 50 |
| Capacity | 31/210 |
R4-C

| | |
| --- | --- |
| Class | Assault Rifle |
| Fire Mode | Full Auto / Semi Auto |
| Damage | 39 (33 Suppressed) |
| Fire Rate | 860 RPM |
| Mobility | 50 |
| Capacity | 31/210 |
Secondary Weapons
M45 MEUSOC

| | |
| --- | --- |
| Class | Handgun |
| Fire Mode | Semi Auto |
| Damage | 58 (49 Suppressed) |
| Fire Rate | - |
| Mobility | 50 |
| Capacity | 8/49 |
5.7 USG

| | |
| --- | --- |
| Class | Handgun |
| Fire Mode | Semi Auto |
| Damage | 42 (35 Suppressed) |
| Fire Rate | - |
| Mobility | 50 |
| Capacity | 21/60 |
Gadgets
| | |
| --- | --- |
| Breach Charge | 3 charges that are used to blow open breakable surfaces. Get the jump on enemies or create new lines of sight. |
| Stun Grenade | 3 grenades that detonate two seconds after being thrown. They impair the vision and hearing of all Operators near the explosion for several seconds. Use it to blind and deafen a room filled with enemies before clearing it out. |