Uplay Challenges
Since Rainbow Six Siege is an Ubisoft game, it comes with Uplay challenges in addition to normal achievements and trophies. Complete classic challenges to earn XP and Uplay points or a Uplay badge. Unfortunately, if you purchase this game on multiple platforms and use the same Uplay account, none of the saved data will transfer. Challenges, currency, unlocks, everything is set to each platform.
In addition to classic challenges, daily and weekly challenges keep rewarding you for playing. Complete weekly challenges to earn XP and Renown, and possibly even an item from the shop.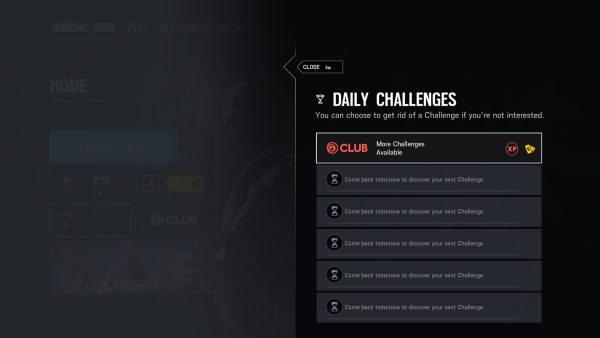 The weekly challenges change each week at 4am Pacific time on Tuesdays. The classic challenges never change and are listed below in order of ease. There are also special event challenges that appear from time to time under the weekly challenges list.