Elite Skins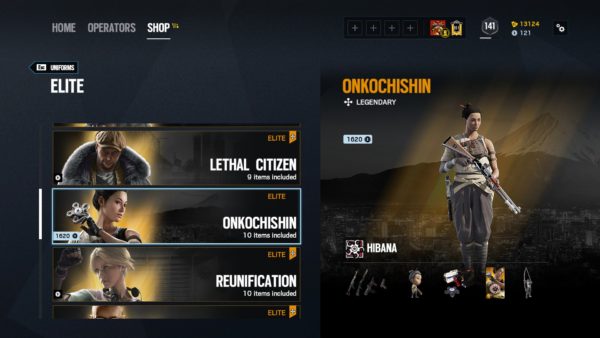 In addition to normal skins, special Elite Skins have been released for a handful of Operators. Each set includes a set of items for one particular Operator:
The elite packages can be found under the uniforms section in the shop. Unlike other uniforms, the majority of Elite skins must be purchased with R6 Credits.
Elite headgear that often reveals the face of the masked Operator
Elite uniform
Elite Weapon skin for all of that Operator's firearms
Elite Weapon skin for their unique ability gadget
Elite Chibi Charm of the Operator
MVP Victory Animation
The elite weapon skins can be applied to all firearms of the same mode. For example: Elite Thermite comes with an elite weapon skin for his M45 sidearm. Since the M45 can be equipped by three other FBI / SWAT Operators, they can also equip the elite Thermite weapon skin.
Unfortunately, the headgear, uniform, unique ability gadget skin, and victory animation must all be equipped at the same time. Furthermore, the victory animation will only play if you are the MVP (player with the highest score) of the match and are on the winning team.
| Operator | Set | Unlock |
| --- | --- | --- |
| Mute | F Squadron Elite | 1800 R6 Credits |
| Sledge | L Detachment Elite | 1800 R6 Credits |
| Thermite | Vintage Bureau Elite | 1800 R6 Credits |
| Pulse | Lucky Seventh Elite | 1800 R6 Credits |
| Rook | Gendarmerie | 1800 R6 Credits |
| Twitch | Maquis | 1800 R6 Credits |
| Fuze | 2nd Shock Army | 1800 R6 Credits |
| Kapkan | Vympel | 1800 R6 Credits |
| IQ | Reunification | 1800 R6 Credits |
| Jager | Flying Ace | 1800 R6 Credits |
| Blackbeard | Guerrilla | 1800 R6 Credits |
| Valkyrie | War Photographer '72 | 1800 R6 Credits |
| Ash | Sidewinder | Free |
| Ash | Black Viper | Outbreak Pack |
| Thatcher | Operation Nimrod | 1800 R6 Credits |
| Doc | Trench Medic | 1800 R6 Credits |
| Frost | Huntress | 1800 R6 Credits |
| Blitz | Panzerstarke | 1800 R6 Credits |
| Glaz | Lethal Citizen | 1800 R6 Credits |
| Blitz | Panzerstarke | 1800 R6 Credits |
| Hibana | Onkochishin | 1800 R6 Credits |